This time last year we were sheep shearing. We have decided to do it a little later this year but that day, while I was running around feeding the helpers and annoying Hubster by taking three million photos, I had a funny taste in my mouth.
When it was all over, I made some excuse to Hubster saying could he have Boo for ten minutes while I go to the shop to get an onion (or similar) for tea and I bought a pregnancy test.
As you will know from my previous post, I always buy the Clear Blue tests first and I did it quickly when I got back.
Negative.
I wasn't 'due' until the Saturday (this was a Thursday) but I thought it would just be like every other month-I'd spend £300 on pregnancy tests only for Mother Nature to come right on time.
Saturday came and, seeing as I wasn't pregnant, I'd had a couple of vodkas on the Friday night which I regretted because we were going on a road trip to Wales to look at puppies.
As I was getting dressed, I decided to use the other test.
I did the deed and carried on getting myself and Boo dressed and then I quickly went to check the negative 'Not Pregnant' words in the window.
Only it didn't say not pregnant. It said pregnant. My knees went week and I actually filled up before I was brought back down to earth by Hubster grumpily complaining that he was waiting for us.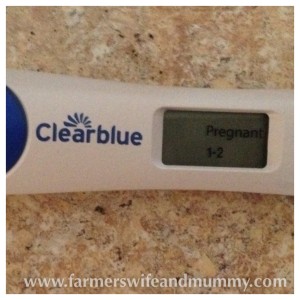 I did what any happy but still nuts person would do-I took a photo of the test and rushed my daughter down the stairs.
Now I know most women would run squealing to their partners and tell them the good news but remember, this was my fourth positive pregnancy test. Even thought I was so happy, I knew things could and did go wrong and it was, after all, early days.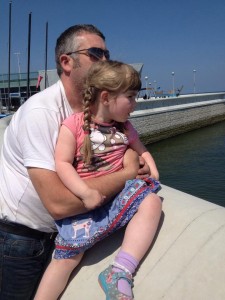 We went to Wales. It was a lovely sunny day and I made Hubster stop on the A55 so Boo could see the sea. I had been promised the beach but the place where we pulled up, the tide was out so we carried on and we got the puppy-Fred, a New Zealand Huntaway dog which Hubster had been obsessed with since seeing them on Lambing Live that Spring.
On the way back, we stopped for food and I got my phone out. Have you seen this photo? I casually asked Hubster, pushing the phone over the table.
He nearly spilt his drink and said he had had a feeling.
We sat there hoping and wishing that this one would stick.
As regular readers will vouch for, I worried all through the pregnancy. I cried at the eight week scan believing they would be telling me bad news again. I hardly slept up to 11 weeks. At the 12 week scan they put me back two weeks and I had to go again at 14 weeks where the little bean had caught up and I was actually 14 weeks again, not 12.
So this week, when the vets text me to say Fred's booster injection was due, I looked into this little boy's eyes and remembered the worry and the tears and I felt so, so grateful.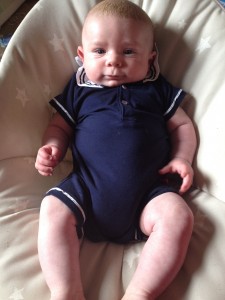 Don't get me wrong, I am still worried sick about him and his sister. Worried that something could go wrong but for now, I have two beautiful children and I know how incredibly lucky we are that they are here.
#FarmBaby2015.
*I bet I got you going with the title 🙂