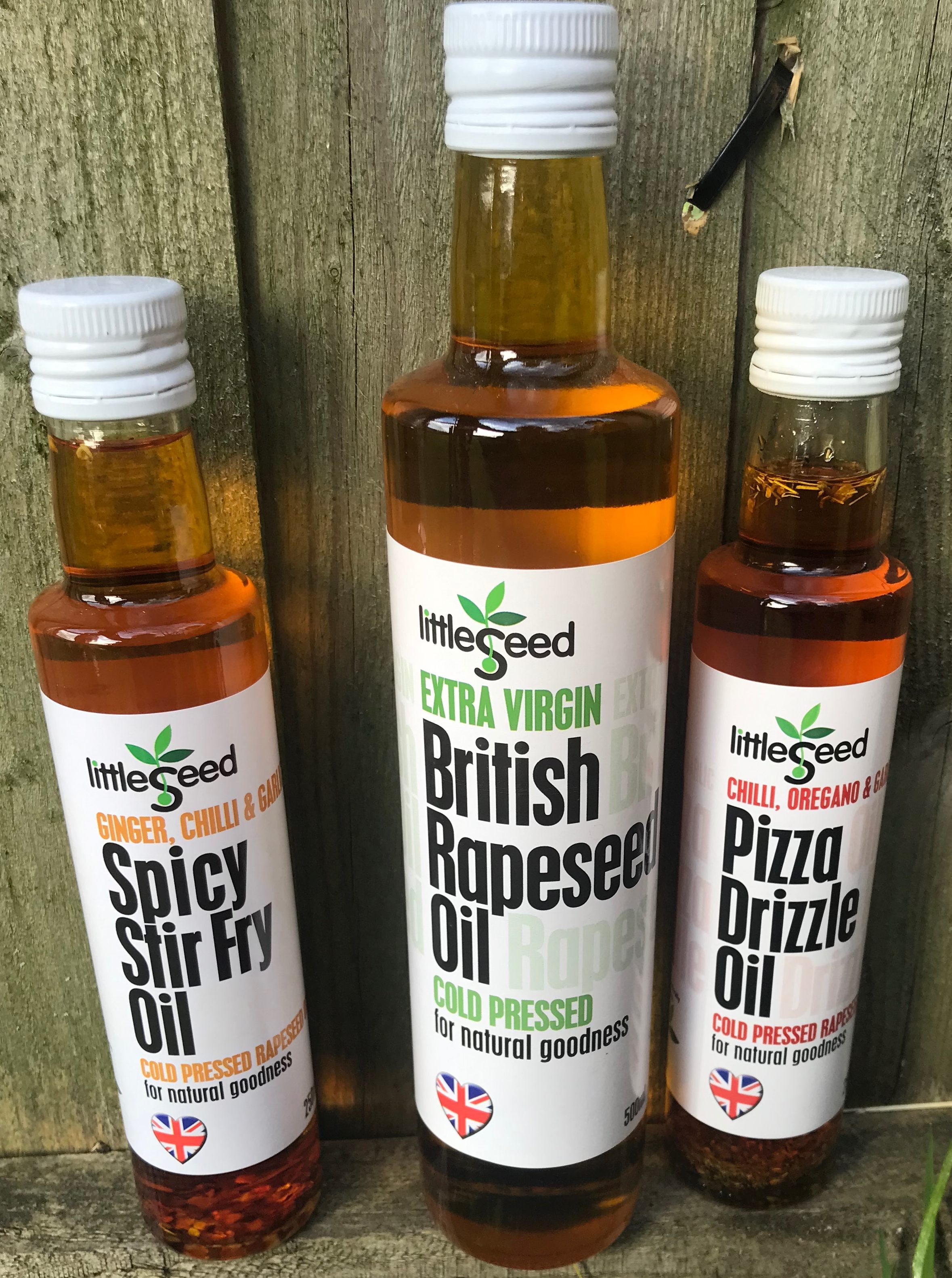 Rapeseed oil is my number one choice for cooking at the farm. Lower in saturated fat and higher in monounsaturated fat than olive oil, it has a high smoke point which means it can be used to cook at high temperatures and it turns everything a beautiful yellow colour.
I think I originally started buying it because it is usually the cheapest oil in the supermarket but it is also one of the best oils you can buy to help British farmers.
As I drive around the countryside at this time of year, I can just see the yellow of the oil seed rape peeping through the green and it makes me instantly think of warmer days and clear blue skies.
When Littleseed got in touch, asking me to review some of their rapeseed oils, I just couldn't say no.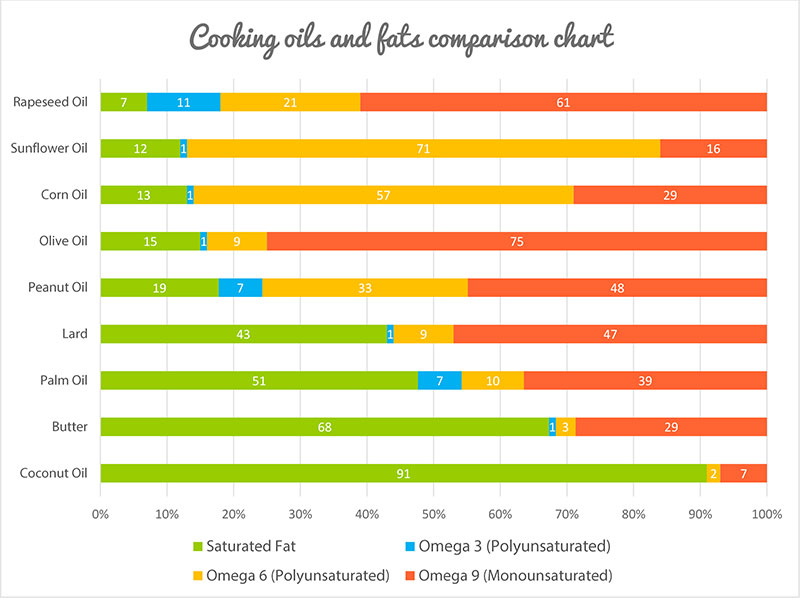 I received a Spicy Ginger, Chilli and Garlic Stir Fry Oil, an Extra Virgin Rapeseed Oil and a Chilli, Oregano and Garlic Pizza Drizzle Oil.
Littleseed has been born from a passion for great British food, a love of farming and the British countryside and their roots have been in agriculture for over 15 years.
Like all farmers, they work the land come rain or shine and, as they are not a huge company, their lovely social media channels are filled with real farming life.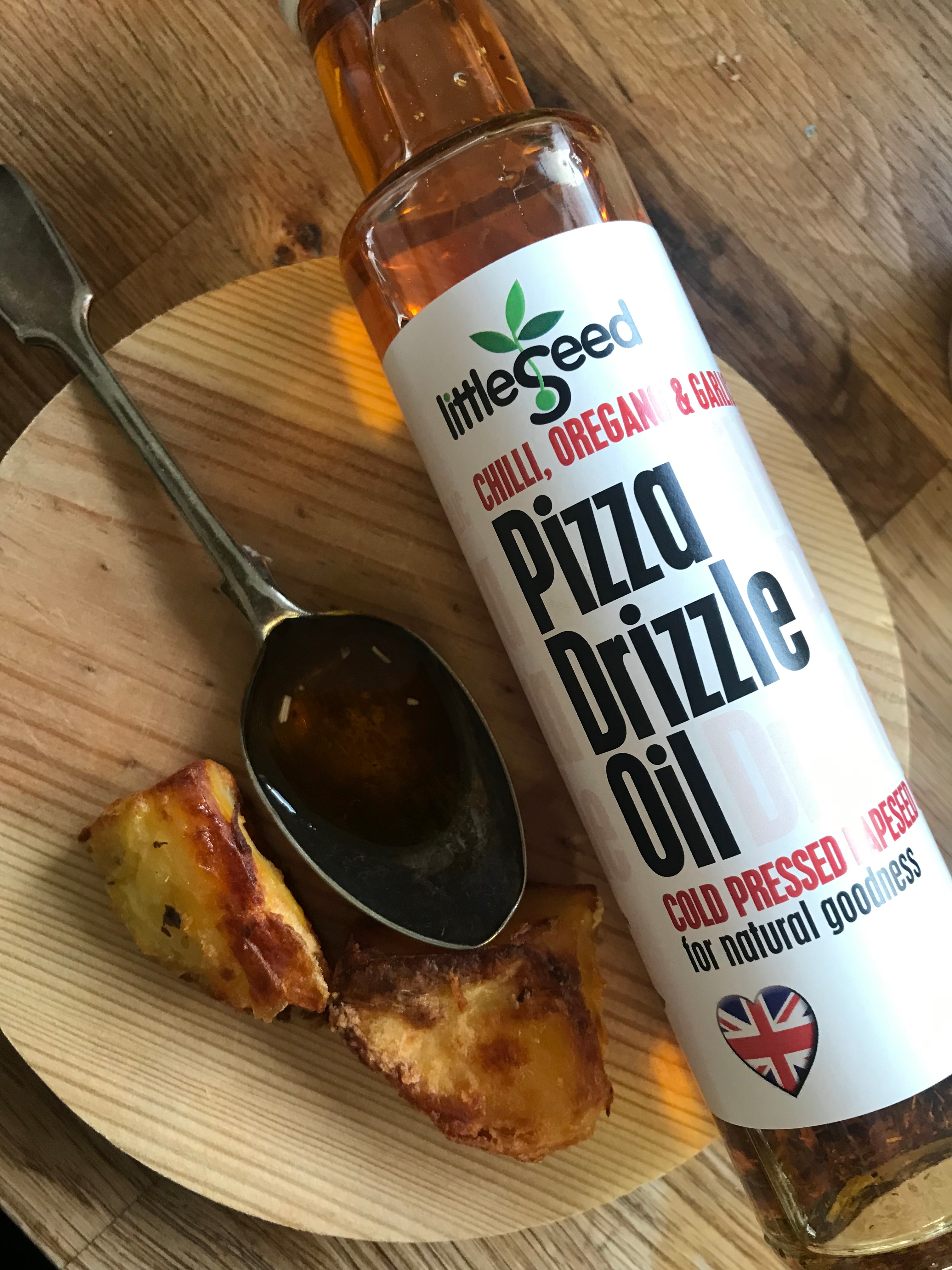 I love rapeseed oil on roast potatoes so for a mid week roast, I decided to go all exotic and use the pizza drizzle oil on my spuds. I still got the gorgeously crispy outer potato but it came with a pleasant kick thanks to the chilli. It is something I would definitely try again.
The next night, to use up the left over beef, we tried the Spicy Stir Fry Oil which made the stir fry I prepared delicious.
My piece de resistance was a carrot cake. I have tried loads of different recipes for carrot cake and none ever seem to beat Queen Mary (Berry) so I used hers. As with everything in my life, I never follow the rules or the recipe to the letter and I swapped walnuts for pecans. Aren't I daring?
Even more daring, I swapped the oil Mary suggested to the Littleseed Extra Virgin British Rapeseed Oil and it was amazing. Much more moist than when I have made it with other oils and, as you cut into the cake, the tell-tale golden colour comes out in the sponge.
Honestly, you must try rapeseed oil in cake. You will not be disappointed.
As the oil is cold pressed, it means the seeds which Littleseed  use to make their oil are simply crushed and pressed to release the oil.
This ensures the majority of the minerals, vitamins, enzymes and trace elements that makes their oil nutritionally important are retained.
All rapeseed grown in the UK is GM free. LittleSeed's oils are also suitable for vegetarian and vegan diets, and gluten free too.
They cost between £2.85 and £3.15 and is available from Ocado.
As you pass the fields of gold this spring, don't forget to think of the farmers around the country who put so much work into bringing food to your plate and the best way of thanking them is to buy British.
*We were sent our oils as a gift and this, as always is an honest review.