With the Queen's Platinum Jubilee being widely celebrated this year, I thought a twist on a classic was just the ticket and it's never too early to plan.
This spicy, fruity potato salad would make the perfect barbecue accompaniment or just on the side for a buffet.
You will need:
20 salad potatoes (cut in half if they are on the large side
Bunch of spring onions
1 teaspoon of curry powder
5 tablespoons of mayonnaise
1 tablespoon of mango chutney
10 raisins or a little box of the kids snack size
chopped, fresh coriander and parsley to taste.
Method:
Cook the potatoes for ten minutes or until they are just tender then cool them down quickly under a cold tap.
While they cool, mix the curry powder, raisins and mango chutney together.
Put the potatoes in a bowl with the chopped spring onions and fold in the curried mayonnaise mixture.
Lastly, lightly fold the chopped herbs in and just sprinkle a little parsley on the top.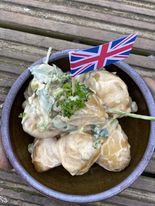 For a super spicy version, add a chilli.
Will keep for a couple of days in the fridge.