Does your husband or partner always forget occasions like Mother's Day and birthdays? Mine does.
As Mumsnet release the results of their latest survey which says nearly a third of mothers say they probably wouldn't get a Mother's Day celebration without reminding their partners in advance, I have decided to share what happens in our house.
According to the Mumsnet survey, nearly a third of mothers say they probably wouldn't get a Mother's Day celebration without reminding their partners in advance. I am one of those.
More than half of respondents (57 per cent) said they'd bought the card for their partner's mother on more than one occasion, if not every year. I also buy cards for his mother from himself and Boo, as well as for my own mum so this time of year can be an expensive one for me.
In the survey, 32 per cent of respondents said they had to remind their partners when Mother's Day was coming up – doubting that their other halves would remember otherwise. Over a quarter of respondents (28 per cent) said that their partner had previously forgotten to buy them a card or gift, or to organise cards or gifts from the children.
My Hubster has never forgotten but that is probably because I have reminded him. I saw a 'yummy mummy' mug and coater in our local petrol station (I always try and pick items in shops near to home). This was my first Mother's Day so I really wanted a mug.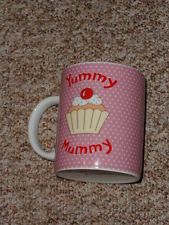 He did get it me and I even feigned surprise.
Is it so bad having to remind your partner? I don't see the point in letting him forget and then getting annoyed at him about it. Some men just aren't romantic.
He does nice things in his own special way and, just because he doesn't remember birthdays or buy me flowers every week,doesn't mean I don't love him or that he does not love me. It is just the way he is.
I think there would be a lot less arguing if women with husbands like mine just accepted them for the way they are and give them a little helping hand. That way we get what we want and they are pleased with themselves for getting you something.
Now I suppose Mother's Day is a but different because it is all about your children. Although unless your children are at school or in regular childcare (where they are likely to make you something there), it is down to Daddy to help.
So this year, instead of crying on Mothering Sunday because your partner forgot to help your children to buy or make you a card, follow my five easy steps to getting just what you want.
1. A week before the event (so if you've not done this for Mother's Day, do it now) say sweetly: "Just letting you know that Mother's Day/my birthday/ Christmas/ Valentine's Day (delete as applicable) is next week. Then walk away.
2. Later that day, have a list of things you might like printed off with prices and where to get them. I make sure it is from a shop within five miles to lessen the stress of shopping.
3. Take photos of what you like or print them off the internet. Hubster responds much better to visual aids than a big list of writing.
4. If your chosen gift is from a shop larger than a corner shop, write directions next to the photos. Something like-DVD aisle or near freezers. This should do.
5. The night before the celebration, leave wrapping paper, sticky tape and pens on the kitchen table within easy viewing and make sure you don't go into the kitchen when they are in there-you don't want to spoil the surprise.
So there you have it. My advice for a foolproof (ish) guide to getting unromantic men to remember dates and for you to get what you want.