I love books, always have. My love of literature started from an early age. My mum and dad read. One of my favourite childhood memories is waiting excitedly at the back door for my dad to come in from work so that I could tell him that I'd finished reading my first book all on my own (CS Lewis' The Lion the Witch and the Wardrobe).
At school, it was an English teacher in year nine called Mr Brazil who tapped into my love of words and literature.
Despite warnings against doing two A-levels so similar, I did English Language and Literature as two separate courses and then embarked on an English Literature degree.
Over the years I have many, many amazing English teachers who have only fuelled my love of Literature further.
I think that proves my love.
It's not just the words and the reading, it is the feel of books. E-readers and tablets all have their place, don't get me wrong, but the smell of pages-both old and new can conjure up such evocative images in your mind.
You could pick up a book that someone you aren't old enough to remember held. If you have a signed copy of a book, you're holding a book that the author held. How special is that?
I love Margaret Atwood and I once dragged my parents the 300 miles (round trip) to Hay-on-Wye to the annual Literature Festival in order to meet my idol.
I had so many things to say to her but, similarly to when you meet your sporting hero or a favourite pop star, I was rendered speechless and just grinned at her like a fool.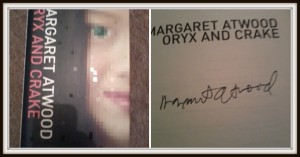 I hold my signed copy of Oryx and Crake very dear.
I've been determined since Boo was born that she will share my love of books. After all, you can't go wrong with a book can you?
So I've decided to start a new series of book posts called old, borrowed and new (like the old, borrowed and blue when you get married.)
If it turns out to be popular, I might do a linki for other bloggers to share their favourite reads too.
The books can be ones you've read yourself, ones your children have read or books you have read to your children.
The old category can be physically old copies of books or just old favourites. New is pretty obvious.
The borrowed category can be library books or books bought cheaply from charity shops.
My first offering is as follows. Old. This book belonged to me when I was a little girl. It is battered and worn with crispy, sticky tape holding paged together but it is loved.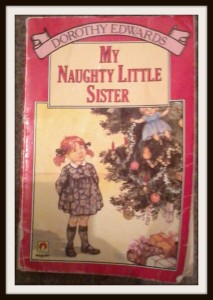 My Naughty Little Sister by Dorothy Edwards.
I first fell in love with My Naughty Little Sister when my reception class teacher, Mrs Bibby read the tales to us as a class. They are beautifully written about a very mischievous little girl who is greedy, stubborn and disobedient but has a heart of gold and always says sorry. From eating trifle meant for a birthday party with her best boy-friend, Bad Harry to running off from her big sister at the fair and getting a ride home with a nice policeman, reading the stories to Boo delights me just as much as having them read to me when I was young. My favourite story is when my naughty little sister goes to Bad Harry's birthday party and the two of them sneak off into the larder and eat a whole "lovely spongy trifle, covered with creamy stuff."
"And my naughty little sister stared more than ever because she liked spongy trifle better than jellies or blancmanges or biscuits or sandwiches or cakes-with-cherries-on, or even birthday-cake, so she said, "For me.""
You can just imagine it can't you? She must be about three. I actually think it would have been something I would have done and, as a child, I really do think I modelled myself on My Naughty Little Sister.
My Naughty Little Sister by Dorothy Edwards is available to buy on Amazon.
What was your favourite book as a child? Or now?

---
You are next…
Click here to enter
This list will close in 7 days, 16 hrs, 42 min (4/3/2014 11:59 PM Europe – Greenwich Mean Time)