Do you remember the uproar not so long ago when a parent admitted they preferred one of their children over the other? Then some other parents jumped on the band wagon and said they felt the same.
Well as a farmer's wife, I feel I should love all of the animals equally but, like those parents, I favour some over others-oops.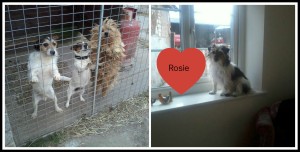 Take the dogs. We have four-Archie, Dougie, Tilly and Rosie. The first three live outside. They are lovely but it is Rosie, who lives inside that gets my favour. I smother her with love and attention. I treat her partly like my first-born, such is the love I feel for her.
If we have nit-bits left over from dinner, it is Rosie who gets the best bits. They sleep outside in a large kennel and run. Rosie sleeps in a soft bed by the radiator and, sometimes, if I've had a drink/am ill/am feeling down, with us. In my opinion, she is the best dog in the whole world.
Then there's the sheep. When we lambed last year, there was a tiny little runt lamb who Hubster thought wouldn't make it. I showered that creature with love and extra milk and the little bony lamb grew into a mischievous, woolly, Minty. I don't feel so bad about favouring Minty. Have you ever looked at a flock of sheep? They are very difficult to tell apart. Minty knows his name though so if he is with hundreds of others-even on a massive field, if you shout him he will come over. He is such a loving (sometimes too much, I have been mounted!) sheep.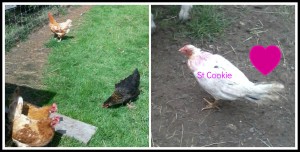 The hens. I do love them all in their own little way. They give us plenty of lovely eggs and they know I give them food. If they see me come out of the door, they come running over. It is funny and heart-warming to see.
However, I love the under-dog. Remember St Cookie? Well that downtrodden little chuck is my favourite. Her feathers still have a purple tinge to them from the antibiotic spray and, I'm sure she won't mind me saying, she is the ugliest hen in my flock, but…she is my favourite. She was dead for goodness sake. I will always love my miracle chicken the most.

Cockerels are next. We have three. You should only have one per flock but we got three by accident really. Our Buff Orpington, Ken is still quite young but he'd going to be a big fella. He is Hubster's and is much loved by him. I am a bit frightened of Ken after being attacked by a previous Buff Orpington we had. Next up is Kevin. He is an Araucana cockerel and was rehomed with us with his ten warren hens from someone who no longer had room for them. He was the accident but, they all seem to be getting on and have their own different groups of ladies. My favourite cockerel is Gok, out white silkie cockerel. He is the don of the flock. A very handsome young man who struts his stuff and sorts out any problems. He is a little softy and I have a soft spot for him.
We have three rabbits of unknown sex. Coco, Carrot and Clover. Clover was our first bunny and he/she is my favoutite. The other two are lovely but Clover is just so cute.
So there you have it. I am a terrible, mean farmer's wife who should love everything equally. Do you favour one pet over another?
<center><a href="http://www.letstalkmommy.com/"  "><img border="0″ src="http://www.letstalkmommy.com/wp-content/uploads/2014/02/ShareWithMePicM.jpg" /></a></center>