Tea. We love it don't we? If something goes wrong-we offer a cup of tea. We celebrate with the stuff. We welcome people into our homes with a cuppa.
According to the Tea Council (yes, there really is one), we British drink 165 million cups of tea every day. I'm glad I don't have to wash all of those cups up though.
We either make tea from a tea bag or, if you're really posh or are old-school, from a teapot. There is the other option like Hubster, who puts a spoon full of tea leaves in his cup and drinks it like that but, I digress, that may be a farmer thing.
So when I was offered the chance to try a new way to take tea, I jumped at it.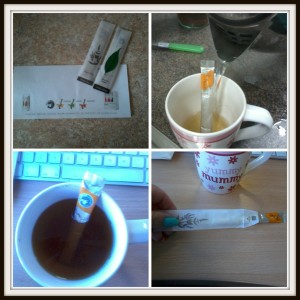 TeaPod is a new way of making tea and it comes in handy sachets that are perfect for home, work or even to carry around in your handbag for those tea emergencies.
You remove the TeaPod from it's "triple laminate food grade foil that goes in your recycling bin after use ~ no waste".
Put it in your cup, pour on hot water and leave it to brew.
I tried the Herb and Honey flavour at work because, we can all agree that there's nothing quite like a tea-break or two 17 when you're busy working. Please feel free to laugh at the picture. *Note to self-learn how to take selfies.
Unlike a tea bag it does not require squeezing nor wringing to extract the flavour so you get all the enjoyment of tea without the hard work.
Also, if when you are out and about, you are worried about the hygeine of your teaspoons (the office teaspoon is a legend), the TeaPod's innovative design lets you use it to stir the tea ~ no need for a teaspoon-genious.
Each TeaPod is packed at point of origin using premium grade, Organic tea leaves that are harvested, selected and processed in Sri Lanka (formerly Ceylon) on Fair Trade estates. So it is Fairtrade too.
There are 11 different blends are available, so there is a blend of tea to suit all tea lovers.
Even a  fruit "goji" berry one which, along with the herbs and honey flavour I tried, is caffeine free.
Although with a toddler whose idea of a lie-in is 6am, caffeine is my best friend so my next TeaPod try is definitely going to be with caffeine added.
For an extra treat or for businesses to impress in the boardroon, Bistrotea TeaPods are available in swanky Mahogany boxes.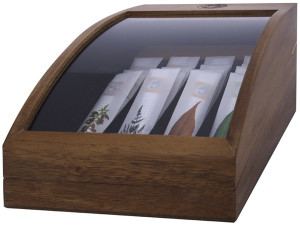 So what are you waiting for? Get over to  www.bistro-tea.co.uk and find out what the fuss is all about.
Lucky readers of Farmer's Wife and Mummy can get a special ten per cent discount on any order by clicking here.