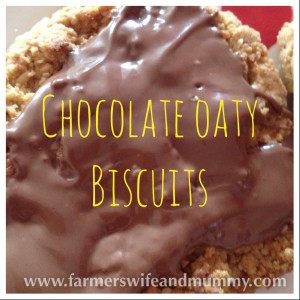 I can't believe a week has passed. Here we are on episode two of the Great British Bake Off and this week's episode is all about biscuits.
The humble biscuit really is a British institution and it is personal taste as to whether they contain cream, jam, nuts, fruit or just plain.
I asked people on my Twitter and Facebook page and the consensus was that a good biscuit had to contain chocolate and, McVities Hobnobs were the favourite brand so, I decided to have a go at making my own.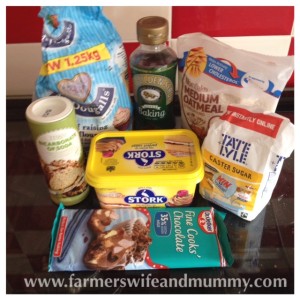 You will need:
150g butter
100g caster sugar
150g self raising flour
120g oats. I used Mornflake Oatmeal which is much finer than normal oats, simply because I like it as cereal in the morning
1 level teaspoon bicarbonate of soda
1 large dessert spoon golden syrup
500g chocolate
Preheat oven to 180 degrees and line one or two baking sheets with grease proof paper or baking paper.
Measure all dry ingredients and mix them in a bowl. Meanwhile, heat the butter and syrup in a pan until melted.
Add the wet mixture to the dry and ix well.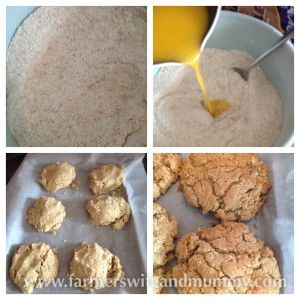 I used my hands here to kneed it a bit and to shape the mixture into balls. It is personal preference as to how big or small you would like the biscuits.
My mixture made 11 large biscuits.
Bake in the oven for 10-12 minutes. As mine were on the large side massive, they took a good 12 minutes and the ones on the second shelf needed two extra minutes on the top shelf.
Cool on the trays for ten minutes then transfer to a wire rack.
While they were cooling, I melted the chocolate in the microwave and, after another ten minutes are cooling, I drizzled the chocolate over each biscuit with a spoon.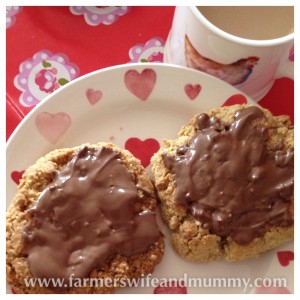 They were delicious. You only needed one though.
I know it is so easy to just go to the shop and buy a packet of biscuits and, while I don't think McVities has anything to worry about, they were really easy to make and tasted so good.
What is your favourite biscuit?