The Mercury may have been tipping 30 in the past week but one day last week, the children and I went to cool down in dramatic style.
In doing so, it saw us dress in snowsuits, hats and gloves in the middle of summer. Have I given it away now?
We went to try out the new children's play area at Chill Factore in Manchester.
No one who has visited the Trafford Centre could have missed the massive 180metres ski slope hanging in the air as you get off the M60.
I have wanted to go for ages. We were invited to my friend's little boy's birthday party a couple of years ago but we couldn't make it because Boo was ill so I was beyond excited.
We arrived with a group of other bloggers and their children and were shown where to hire equipment. If you have your own snow attire, you are quite welcome to take it along but if you don't, there are plenty of sizes to choose there-from the tiny to the large and everything in between.
We then went through some automatic doors and were plunged into icy temperatures into Mini Moose Land's Arctic Adventure Playground.
There is a play house, slide, igloo, and a magical network of tunnels buried beneath real snow.
There is also a mini ski slope that little ones can slide down on rubber rings. Seriously, loads of fun.
It is suitable for children aged four years or under (the maximum age is six) and is open every day from 9.30am until 9pm and costs £5 peak and £6 off peak. Children have to be able to walk to go in but, smaller children, like Baby G can be carried in but do need to be wrapped up accordingly.
Now, I have already mentioned about my (over) enthusiasm about attending the opening of the kiddy playground.
What about the children, I hear you ask?
Well, you've heard the phrase 'don't work with children or animals?'
Unfortunately, as the name of my blog suggests, I am at a disadvantage to start with.
I had thought Baby G would be the problem in the chilly atmosphere but he was snug as a bug in his rather fetching green, snowsuit and slept through the whole adventure.
It was the diva who had other ideas.
It seems my careful, dainty Boo was not happy about the possibility of slipping. She managed to go in the play house and I dragged her onto the mini-ski slope with brute force.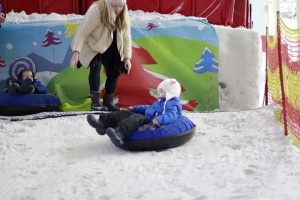 Apparently, those at the bottom said she had a smile on her face on her descent but I am afraid, this was the end of our snowy adventure.
Her reaction was nothing to do with the attraction. I think she is just not used to slippy surfaces (please note it wasn't even that slippy) and she got a bee in her bonnet so I begrudgingly left the slopes.
In a way though, I'm glad we did because we got to have a good look around.
Chill Factore has bars, cafes, restaurants and shops so it can be a whole day or evening event.
Upstairs is a cafe decked out like an alpine Swiss chalet and you can go on a balcony to look at the fun being had in the slopes below (I wasn't bitter, honest).
When everyone else had finished in the snow and got changed, we enjoyed some lovely pizza upstairs which, as a sample of the food available to buy there, was delicious.
Thankfully Boo was not offended by the pizza.
We had a great day at the Mini Moose Land's Arctic Adventure Playground and, it's opening is just in time for the school summer holidays.
For more information and to book, visit the Chill Factore website.
*We were invited to the opening of the new Mini Moose Land for the purpose of this review but all opinions (and worried divas) are my own.