Before you get married, I think it's really important to discuss whether you want children with your future spouse. For the simple reason that it must be awful if one partner wants kids but the other doesn't.
To be honest, I can't ever remember 'the chat' and, as it was, we had our chief bridesmaid 11 months before the wedding anyway so we knew we did want children.

We have never really had a chat about how many we would try to have. It has taken so long to get this far with baby number two that I suppose we thought it might never happen but on Saturday night, Hubster dropped a bombshell.
I think we will stay with two.
I was shocked and unprepared for this.
I am an only child and Hubster is one of four. I have joked throughout this whole pregnancy that if it's not a boy, Hubster will make me have more. It seems he isn't as bothered as I thought about an heir though and says two will be enough-even if it is a girl.
I just never imagined this as my last pregnancy. I thought we might have one more after this. I bought a maternity dress for Christmas and tried to buy one that would be suitable should I go on to have a summer pregnancy one day.
I am not being greedy. We know more than anyone that you can't plan these things. Fate and other factors get in the way.
We may not even get pregnant again but, until now, I just hadn't thought of this baby as my last.
I have not moaned half as much during this pregnancy as when I was carrying Boo. Despite being a lot sicker and it sometimes feeling like it is trampolining on my internal organs, I am just so grateful to have got past 12 weeks and that, up to now, we still have a wriggly baby in my tummy.
I couldn't have enjoyed the pregnancy more even if I had known it might be my last pregnancy as I am still so worried about having a healthy baby at the end of it.
I just wish we'd had the chat before.
I don't think I'll be ready to get rid of cots and newborn sleep suits after this one. To think these will be my last nappies and night feeds. This will be my last birth-yes even that makes me feel a bit sad.
I asked Hubster what we would do if I still felt broody after this one and do you know what he said?
We will have to get you another dog.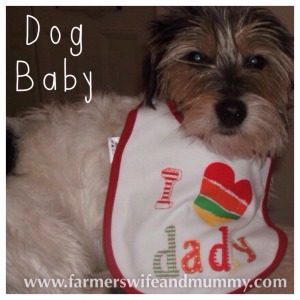 Hehehe have you had the numbers chat?