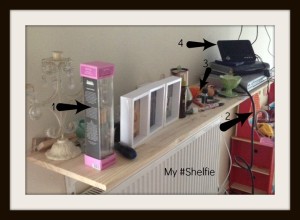 This month has been all about #Shelfies.
A selfie of a shelf in your house.
I have seen some absolutely gorgeous shelves by other bloggers who are much tidier than me.
Neat, beautiful shelves with everything symmetrical and in its place. Nothing hidden behind photo frames. No wires hanging down.
I'm not going to lie, I wasn't going to do this task.
We only have one true shelf in our house and it doubles-up as the only place that for now, is out of reach of little Miss Boo.
As you can see, I have tried the neat styled look. You can see the candelabra, the photo frames, the ornaments.
However because our TV is mounted on one of our old beams, we had no where for the DVD player and Sky box so I think this makes it a bit unsightly to begin with.
Then there is Hubster's new 'toy' his CCTV (figure 4). I will tell you about this again but, believe me, I am delighted with this.
My rose reed diffuser (I love the smell of roses) is my own doing. It has been there for about a week but I can't decide where to put it as most places are within reach of the little minx who I have found playing with reeds before-oops epic mummy fail there.
Figure 2 is the wire from the hairdryer. I usually don't have time to wash my air in a morning so I do it at night and blow dry my fringe in the lounge so as not to wake Boo.
Figure 3 is a series of contraband which I have confiscated from Boo. A wooden, toy orange that she threw at the dog, pens which she attempted to draw on the walls with, a pain relief rub for muscles, loads of 'small toys' which make a mess and have therefore been hidden.
I reckon I have about another year of the shelf still being out of reach. I think after that, I will have to get a lockable cupboard.
So there you have it.
I could have tidied the shelf but where would the fun in that have been?
This is our life on the shelf. The screw drivers we replace toy batteries with, the mouse trap (don't ask), the pens and crayons. This shelf represents our quirky, lived-in, non-perfect life and we love it. This is us.
This post written in connection with Victoria Plumb and Tots100.
Victoria Plumb have launched a Great British Home quiz so you can identify your own style and style up a #Shelfie of your own.
If you share your results on Facebook, Twitter or Google+ you will be entered in a competition to win £250 worth of John Lewis vouchers. What have you got to lose?
Despite my style supposedly being Lady Mary from Downton Abbey, I think I would be banished downstairs to live with the servants if she saw my #Shelfie.
Never mind, if I win the John Lewis vouchers myself, I could spruce up my shelf.
You're right, I probably wouldn't.