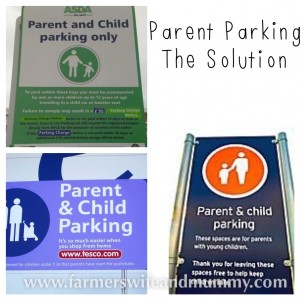 There have been lots of wonderful blog posts and articles about parent and child spaces. Some have been hilarious and I must admit, I have had some pretty heated exchanges in my local supermarket car park because someone who obviously has no children in their car (driving a two-seater sports car), parked in a parent and child space, leading to me struggle with the car seat.
It was bad enough with Boo but now with a four year old and a baby to negotiate into the shops, it is even worse.
I even read a report today suggesting the big supermarkets are planning to scrap the spaces all together because they are taking up too much time.
I have come up with a solution though that should solve the misuse and aggravation of these spaces.
The whole reason for parent and child spaces, for me, is not proximity to the store. It is their width.
You have to open the car door very wide to get baby car seats in and out and to belt up all car seats.
Therefore if all spaces for parents were moved to the far end of all car parks, surely this would solve the problem.
It would produce more disabled spaces and the people too lazy to walk who abuse the parent spaces would surely think twice about using a disabled space?
Well, probably they wouldn't but it must be worth a try.