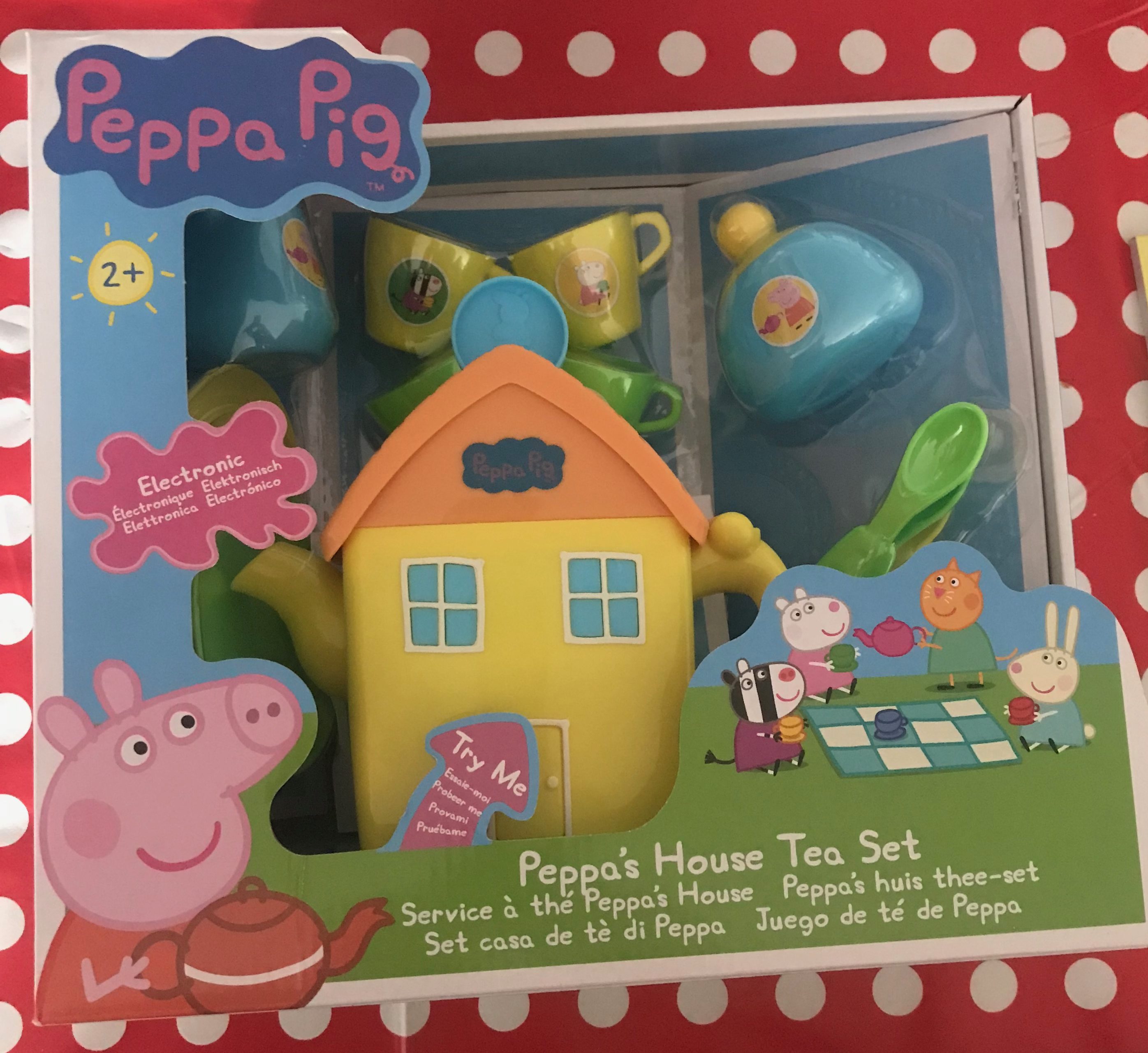 Teas sets are an almost essential part of childhood. The endless options for imaginative play are incredible and are you really a parent if you haven't pretended to drink from a tiny cup, asked for more milk and told them that it was the most delicious cup of tea you've ever tasted?
The Peppa Pig House Tea Set is just the thing to serve up high tea on the carpet. The teapot itself is in the shape of Peppa's house. If you press the front door, it plays the Peppa Pig theme tune and the windows light up.
On pouring into the cups, a running water sound is activated to make games even more realistic. If you open the roof of the tea pot house, you can also hear Peppa snort.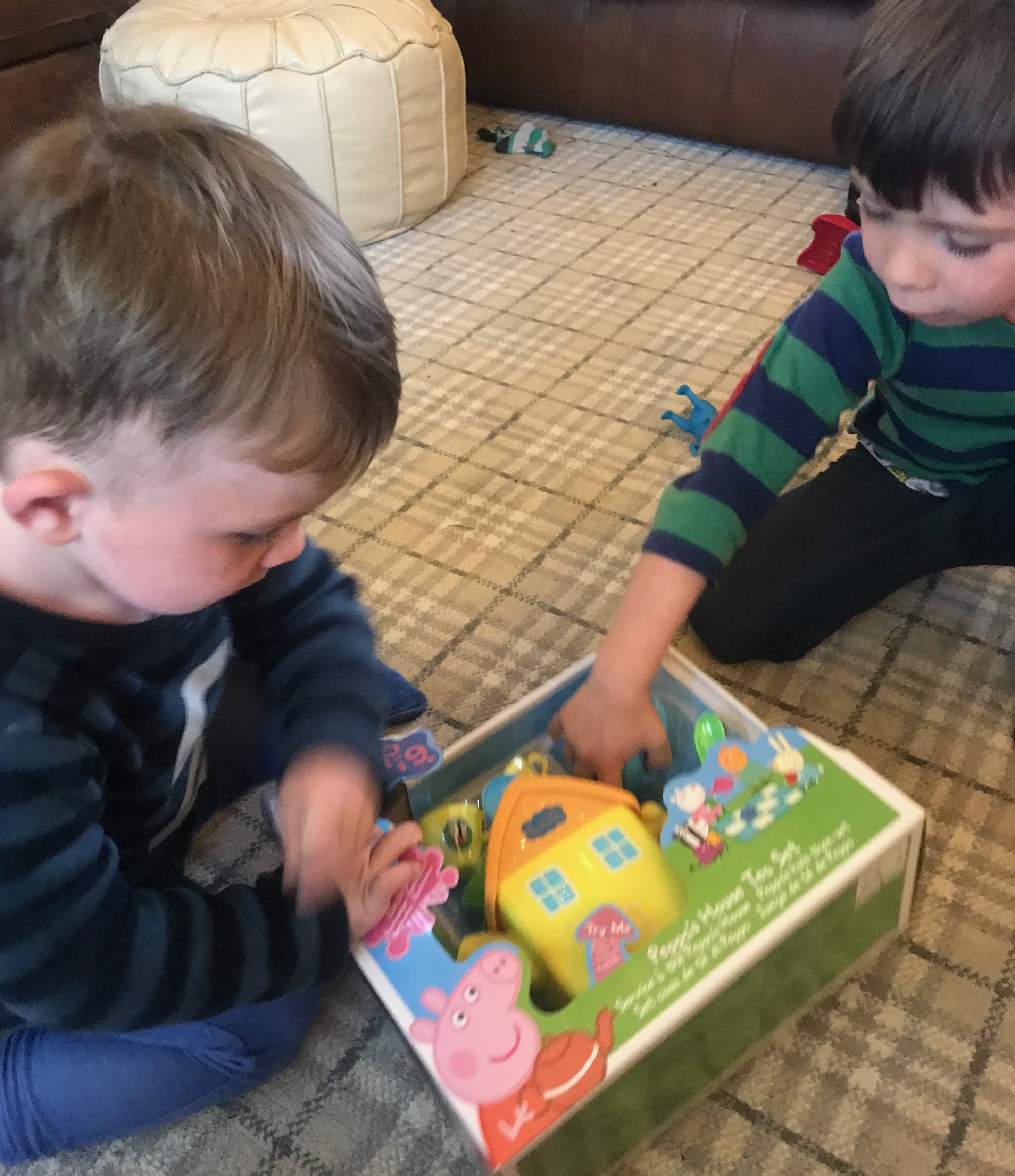 The set itself comes with the tea pot, four cups, four plates and four spoons, a sugar bowl and a little milk jug.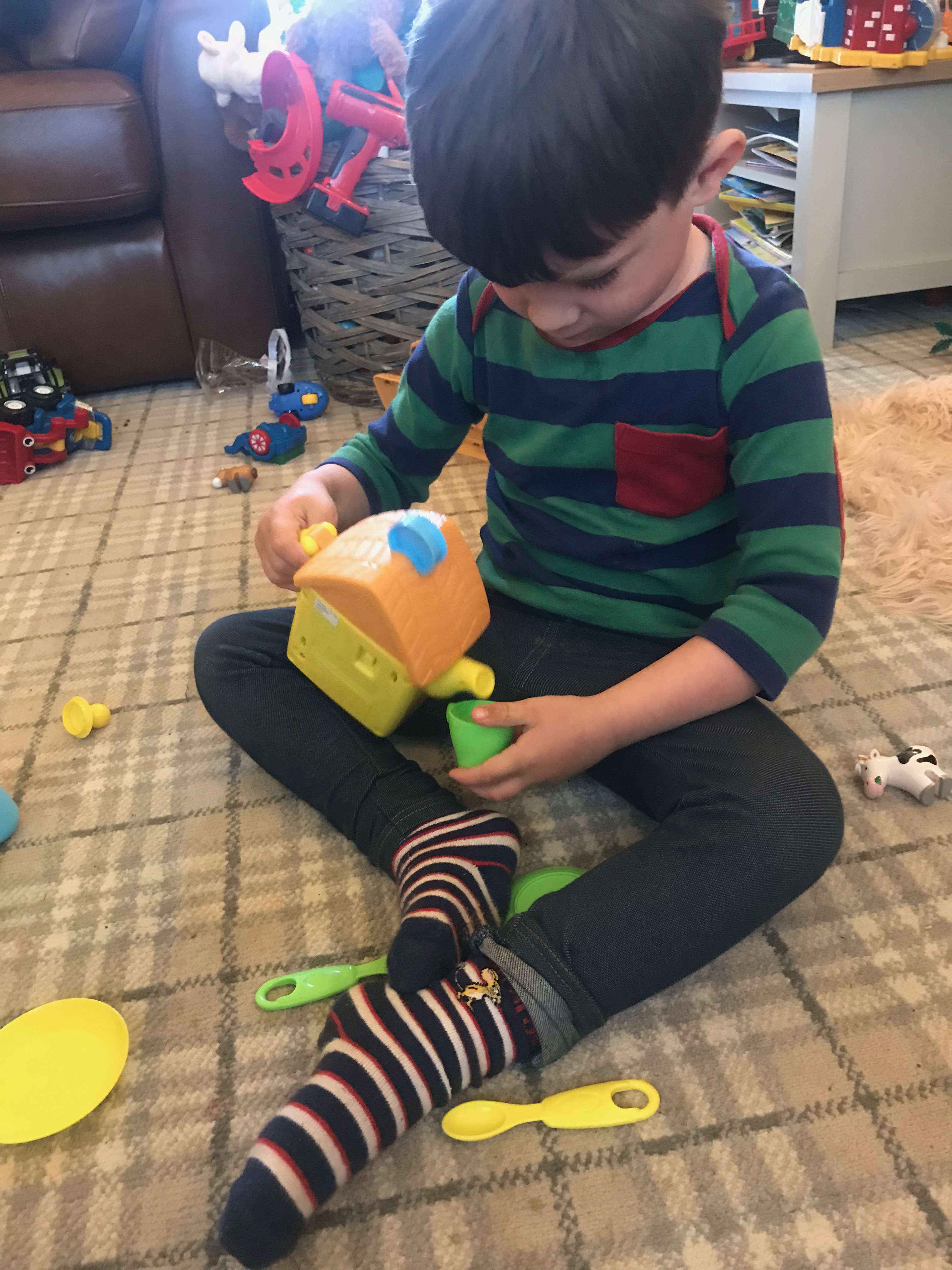 Each item (apart from the spoons) is adorned with a stick featuring one of the Peppa Pig characters so children can choose there favourite character to drink from.
We set up our tea party on the carpet and proceeded to make tea and coffee for every body. It was a rainy day so it was the perfect activity for the boys.
As the weather gets better though, the tea set will also be going into the garden to carry on the playing there.
The boys loved the tea set-they are four and two but my eldest, who is still a big Peppa Pig fan was also delighted with the tea pot when she came home from school.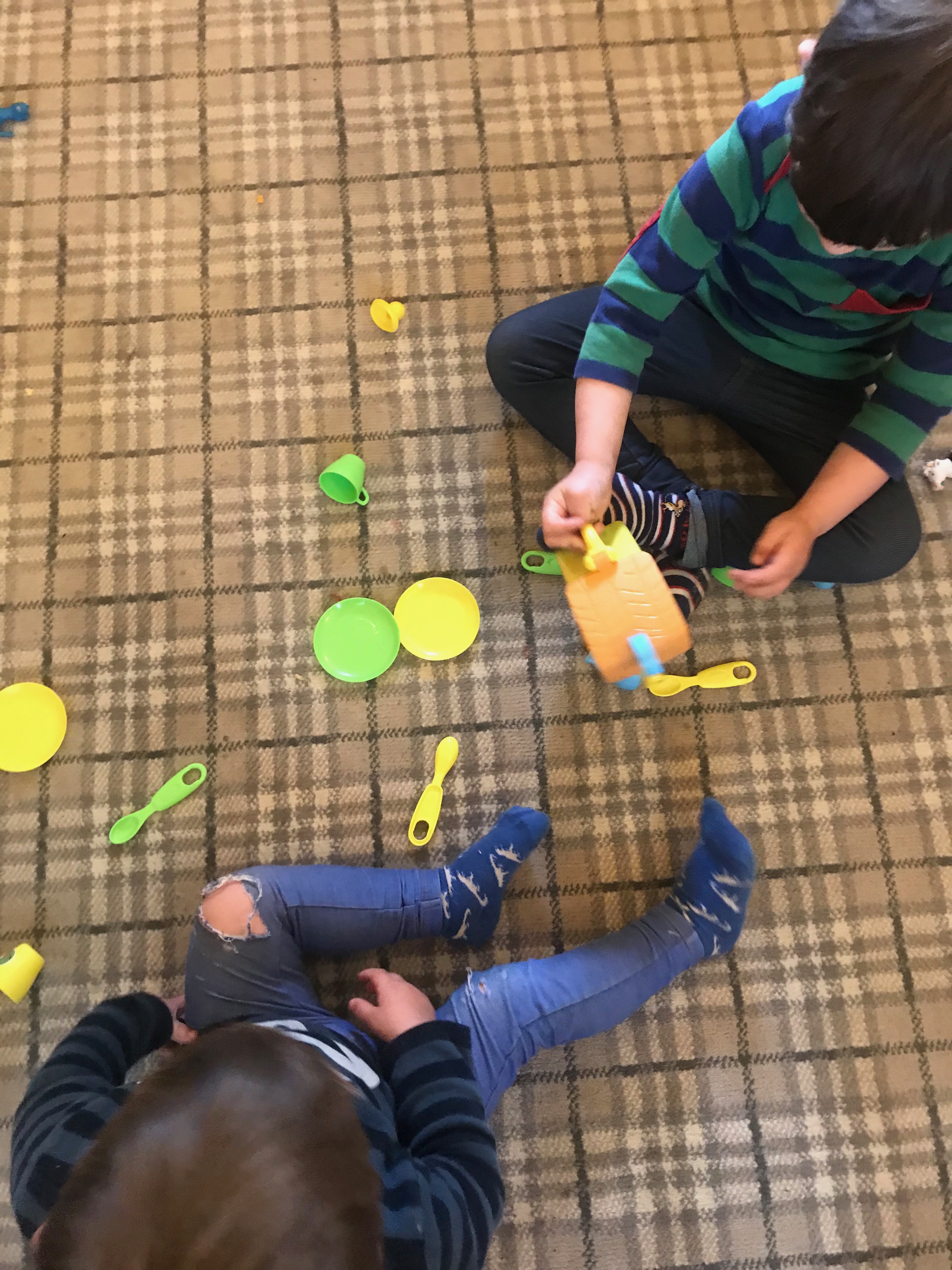 Over all the children were very pleased with the tea set. The only drawback is that the stickers on the cups and accessories don't seem to be very well stuck on but I added a bit of glue on ours so they should last a bit longer now.
Also the success of any toy here is the opportunities for my children to fight over it. The tea set therefore, is a winner for that.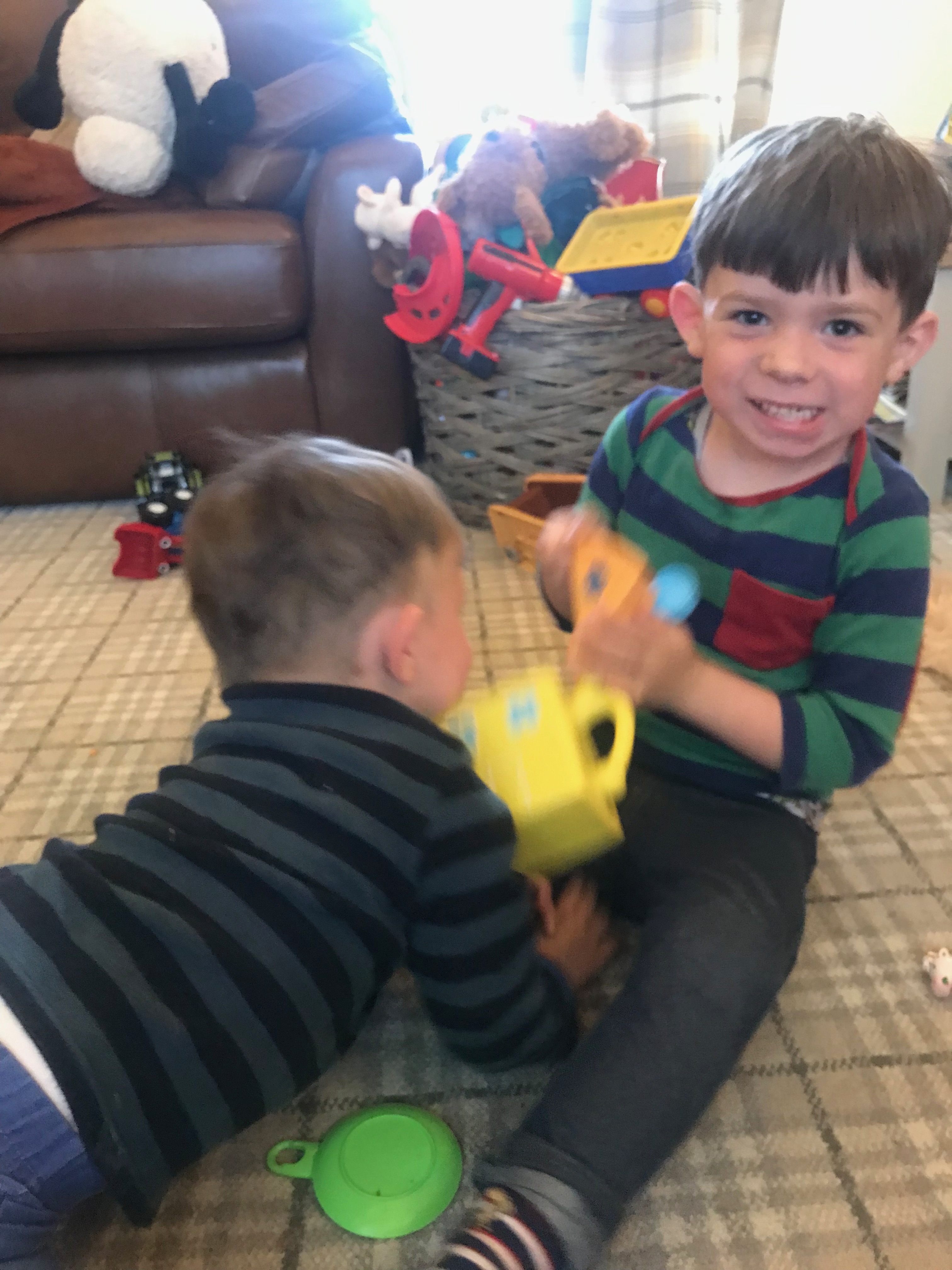 The Peppa Pig House Tea Set has an RRP of £19.99 and we were sent this for the purpose of this review. As always, all opinions are my own.