This is one of my favourite ever desserts.
I say dessert, some may describe it as more of a pudding but hey ho, it is…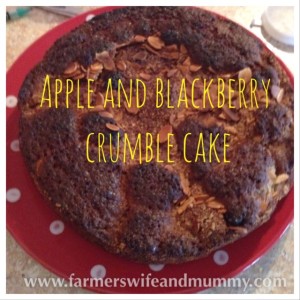 I make variations of this all year round. Even adding mincemeat at Christmas to give it a lovely festive feel.
I hate sticking to recipes so, if you fancy adding or swapping an ingredient, feel free. I am especially guilty of swapping an ingredient if I don't have it in.
You will need:
For the cake:
4oz self-raising flour-I used wholemeal as I had it in.
2 oz butter
3 oz caster sugar
3 eggs
For the filling:
3 desert apples
A handful of blackberries
2oz oats
1oz self-raising flour.
tsp of ground cinnamon and ginger (optional)
1 ½ oz of butter
1 oz caster sugar.
Flaked almonds to top (also optional)
First, heat the oven to 180 degree and grease and line an eight inch cake tine (loose bottom is best here).
First make the crumble.
Rub the dry ingredients into the butter (apart from the almonds) and set aside.
Slice the apples and wash the blackberries. I had been making blackberry and apple crumble before I changed my mind to make this cake so the apples were already stewed. You don't need to pre-cook them, but it still worked.
Next make the cake. Add all the cake ingredients into a bowl and whisk until light and fluffy. Spoon into the prepared cake tin.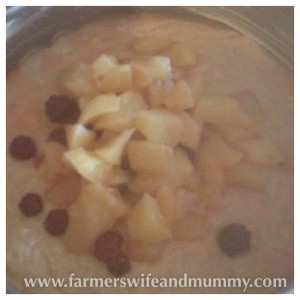 Put the sliced apple and prepared blackberries on top of the cake mixture.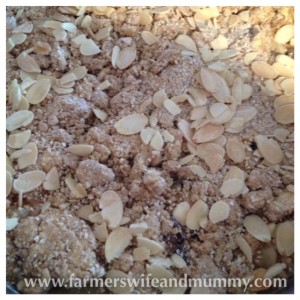 Sprinkle the crumble mixture over the top and sprinkle the almonds on top of that.
Bake in the oven for one hour.
As I had pre-stewed the apple, some of the juice rose through the crumble and burnt. It still tasted good but doesn't look too attractive.
I may not receive marks for appearance but it is one of the best cakes ever.