This is the third year that I have baked along with the (first half) of the Great British Bakeoff. I say first half because each year I flounder at bread week. I am hoping to over come my crumbiness when it comes to bread this year but this week is the turn of my other baking nemesis-biscuits.
Before deciding on which biscuits to tackle, I had a look at my offerings from the last two years and I was surprised that both recipes contained oats. I knew we needed an oaty change this year.
I remember Garibaldi biscuits from my childhood and they were always a favourite. I just wanted to adjust the filling.
Anyone who knows me, knows that it's Christmas all year round in my head. My kitchen candles are all cinnamon or spruce-scented so I thought I would have a go at Christmas-spiced Garibaldi biscuits.
Ingredients.
2oz sultanas
1 earl grey tea bag (or brandy if children won't be trying)
1 tsp each of ginger, cinnamon and all spice
1 oz butter
4 oz self raising flour
1 oz milk
1-2 table spoons of milk.
1 oz demerara sugar
2 oz butter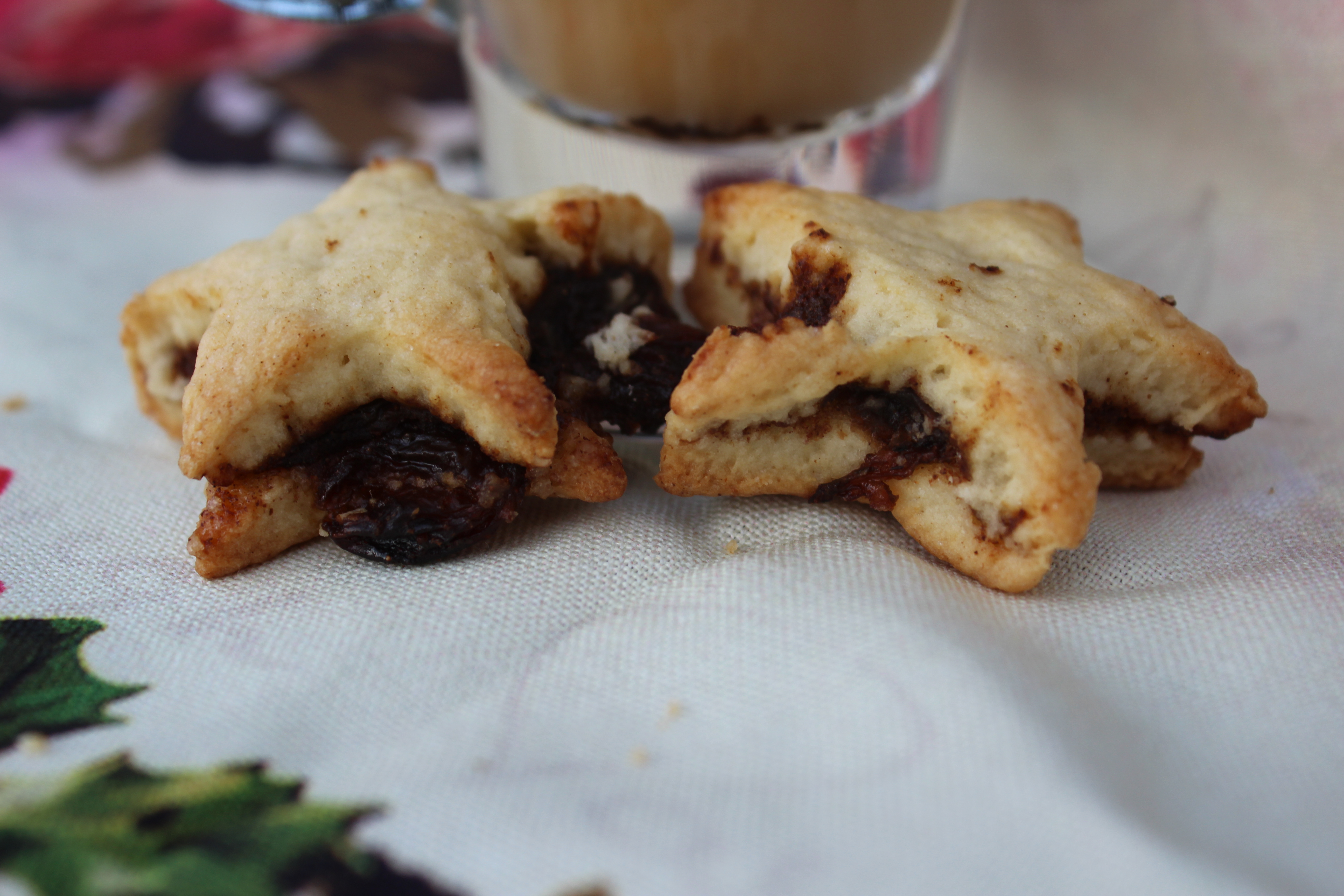 Method
Boil the kettle and soak the tea bag in around 10 mls of water.
Add the spices to the sultanas and pour over the tea.
Allow enough time for the fruit to plump and absorb all of the liquid-at least two hours. Preferably over night.
Meanwhile line a baking tray with parchment paper and grease.
Cream together the demerara sugar and the 2 oz butter and set aside. Add an extra teaspoon of cinnamon to this mixture if you particularly like the flavour.
Rub together the butter, sugar and butter until it is a fine bread-crumb consistency.
Gradually add the milk until the mixture is a dough.
Roll out on a floured surface and cut into two.
Spread the sugar-butter mixture over one half of the biscuit dough and then top with the spiced fruit mixture.
Lay the spare half of dough over the top and roll again. This part does get messy as the filling will inevitably over spill.
You can cut into regular Garibaldi shapes like triangles or rectangles or, for an extra festive feel, I used a star cutter.
They may not be Viennese whirls but they didn't last long in our house. So much so that the next time I make them, I will be doubling the quantities for more Garibaldi goodness.
They would go perfectly with a hot chocolate laced with Baileys.