Prams are such a personal thing. They usually cost quite a lot of money and, if you don't think about your lifestyle and where you will be using your pram, you could make a very expensive and spectacular mistake.
For example, if you will be using public transport a lot, you need a lightweight, slimline vehicle which will fold down with one hand. If you will never be putting it in a car, a coach-built Silver Cross Balmoral may well be the perfect choice.
My first pram purchase was purely on the fabric (I have a thing for polka dots) and I can't even remember if I even pushed it around the shop.
I still love the pram. It can lie flat like a 'proper' pram from birth but it an also be a pushchair.
However it is heavy and is a bit outdated compared to ones available now.
When Boo was about one, we got a cheap pushchair from Mothercare.
It was lightweight and compact but, as she got heavier (she didn't walk until she was 22 months) I ended going back to the Mamas and Papas as it was so sturdy.
When Baby G came along we hubster decided we would reuse our old pram. Now affectionately referred to as the beast.
I was beyond disappointed.
I bought a pram in a very good condition from eBay. It's an iCandy raspberry and it is the new style with a carry cot and pushchair seat unit.
This is the new way. You use a carrycot until six months and then switch to the seat unit.
It was great. Very easy to push compared to the beast.
I soon fell out of love with it though.
Realistically, Baby G outgrew the carry cot much sooner than six month. It got to the point where his head skimmed the hood when you got him out and his head and feet touched both ends.
The biggest bugbear for me which, you will find is the case with many of these 'new style' prams- you have to take the seat or carrycot off the wheel chassis before you can collapse it. Also, the hood never stayed up.
Added to this, despite what many manufacturers say, it is not easy to do. You will find me squealing with frustration in car parks on most days trying to get the seat unit apart from the wheels and into the car.
This is the thing. The beast, despite being cumbersome, does fold flat (ish) with the seat unit attached to the chassis and, because it is suitable from birth, you don't have to faff around with a carry cot and then storing it when it has been outgrown.
I am now at a stage where I feel enough is enough and I am that fed up that I am going to buy a new pram or pushchair.
I have the money ready to buy but I have no idea what to go for.
I have therefore come up with a definitive list of what I am looking for.
I am under no illusions that I will not find everything I want but a girl can dream right?
This is the person who looks at prams on the Internet on a Saturday night and has a Twitter list of pram manufacturers called Pram Porn.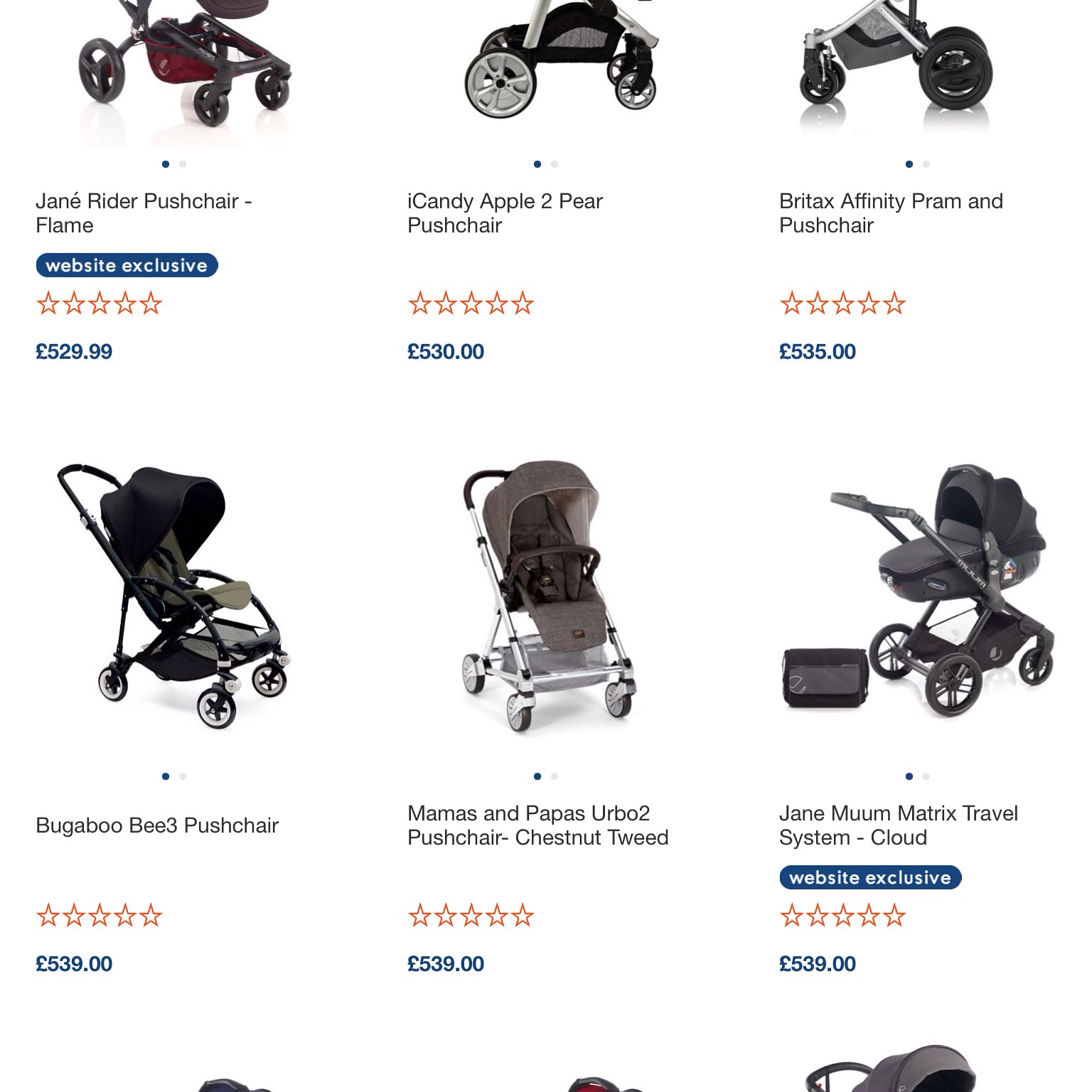 Yes. I need help.
This is what I want.
Big basket. Many pram manufacturers say they do not advocate putting changing bags on the handle bars of your pram.
This would be fine if the pram under basket was big enough to house an enormous changing bag (who travels light with a baby?).
Until then, my bag is being slung over the handle bars. Sorry.
Push with one hand. This is essential when you have more than one child. You need to be able to hold the hand of your older child on busy roads while still being able to push the baby. This unfortunately does not happen easily with the beast.
Lightweight. I don't want to grunt every time I lift the pram into the car. The end.
Compact fold. I used to have a massive car. Now my boot is big enough but I could always do with more boot room.
Fold with seat unit attached. I am now doing the school run and carrying Baby G because I can't be bothered getting the (iCandy) pram out at school. He was 20lbs a month ago. I know I won't be able to carry him long distances forever. I need a pram which will flip out in 10 seconds and fold back in a similar time frame.
Recline with handle not string. The cheap Mothercare pushchair had a stringy ribbon thing to allow the seat to recline.
Have you ever used one? In my experience, you only recline the seat when your baby has fallen asleep slumped over.
Using the string-type recline, your baby will not be staying asleep. The terrible jerk will inevitably wake them up.
The iCandy has a button on the sides-the same button used to take the seat unit off. I haven't found this very easy to use at all. I want smooth, unjerky reclining please.
Lastly, I want intelligent wheels. We live on a farm but the pram will equally be used on fields, rough farm yards as well as the smooth floors of shopping centres and supermarkets.
It is 2015. Why can't they come up with wheels similar to those on posh vacuum cleaners where wheels will adjust between carpet and Laminate floors. Why can't pram wheels do the same?
My list is not exhaustive. I am sure I will think of more things to add but, for now, that is it.
What would you like to see on your perfect pram?