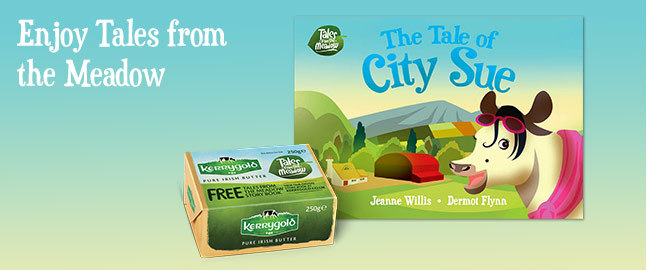 Like me on our farm, Irish farmers who make Kerrygold, like their animals to be happy.
The Kerrygold story is a simple one. They work with small co-operative farms where small herds are free to graze on lush Irish meadows.
It means Kerrygold cows are healthy and happy, free to roam outside.
It's these cows, and countless generations of dairy knowhow, that makes their butter taste so good.
Kerrygold has teamed up with renowned children's author Jeanne Willis and top Irish illustrator Dermot Flynn, to create a stunning children's storybook, The Tale of City Sue.
The storybook, which is also available in an animated version online voiced by a very special Irish celebrity, tells the charming tale of how the Kerrygold cow's lives are disrupted by the arrival of a loveable cow from the city, City Sue.
A tale about Kerrygold's natural farming methods and Meadow Milk is underpinned in this lovely story.
In this turbulent time in the dairy industry across the Irish Sea here, it is a good idea to teach even the smallest reader where milk comes from and what a great job farmers do.
Otherwise, what would get spread on their toast in the morning?
Find out more about Kerrygold butter and the Tale of City Sue here.