These are a grown up Halloween treat. Saying that though, Boo quite enjoyed them too.
Ingredients
Sweet desert pastry-enough for 12 tarts
1-2 desert apples* sprilised
Toffee sauce. You could make dulce de leche but as I only needed a small amount, I just bought a small jar.
Icing sugar to dust-I used Sugar and Crumbs, Christmas Punch flavour.
Method.
Roll out the pastry, cut it and place it into a greased bun tray.
Chill for ten minutes.
Blind bake for ten minutes.
As it bakes, spirilise your apples. You could also thinly slice them or even grate but I think they look great like this.
Take tarts out of the oven, squirt toffee sauce into each case and top with apple.
Bake for ten-15 minutes depending on you oven. I used the non-fan side of my oven and it took 15 minutes at 180 degrees.
Allow to cool for ten minutes, remove from tray and cool on a wire rack.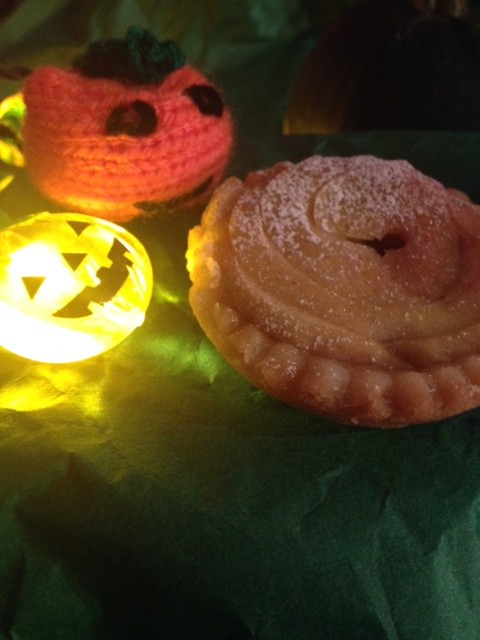 When cool, sprinkle with the icing sugar.
*Surely the inclusion of fruit makes this tart one of your 5-a-day?