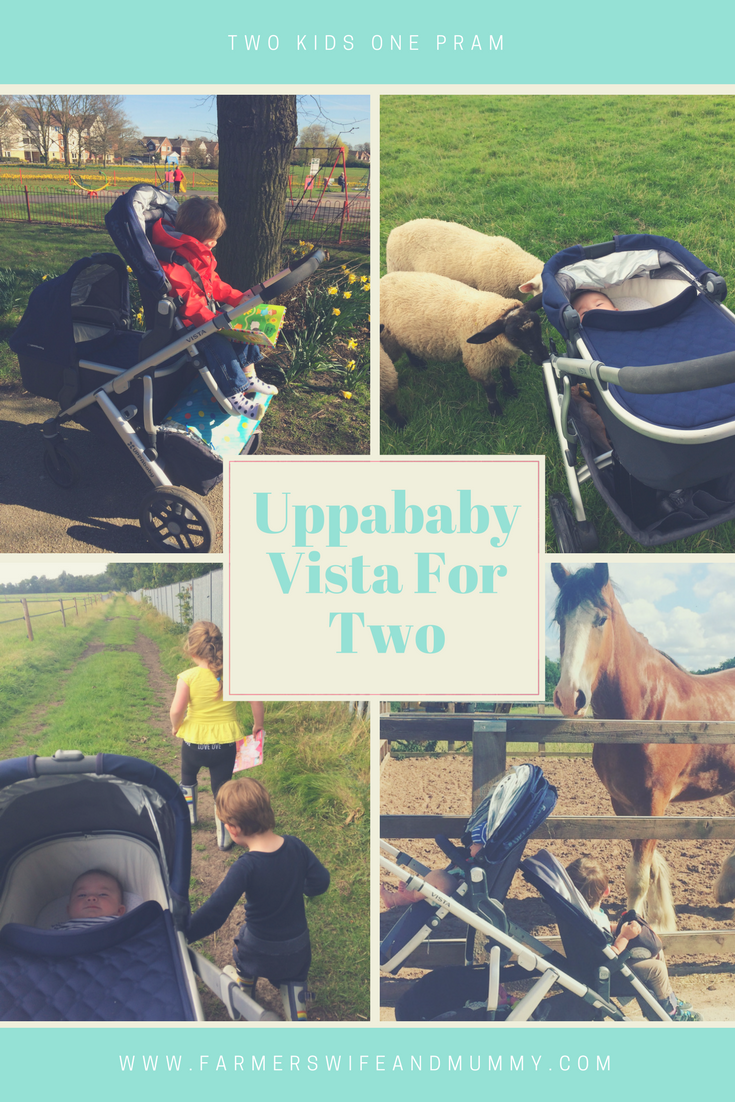 My quest for the perfect pram has gone on for years. I've blogged about it, bored people to tears about it.
It is such a big decision.
A pram will probably be one of the most expensive baby items you buy.
It has to be the right choice.
When I had G, I knew which pram I wanted but we already had one from when I had Boo and, because we were unsure whether we would have a third, I didn't get the one I really wanted.
My stipulations were:
A large basket
To fold it down with the seat attached
That it would work well off road on the farm
Easy to push
Sturdy for when your baby grows.
For me, after extensive research, there is only one pram which ticks all of these boxes and more.
May I introduce the Uppababy Vista.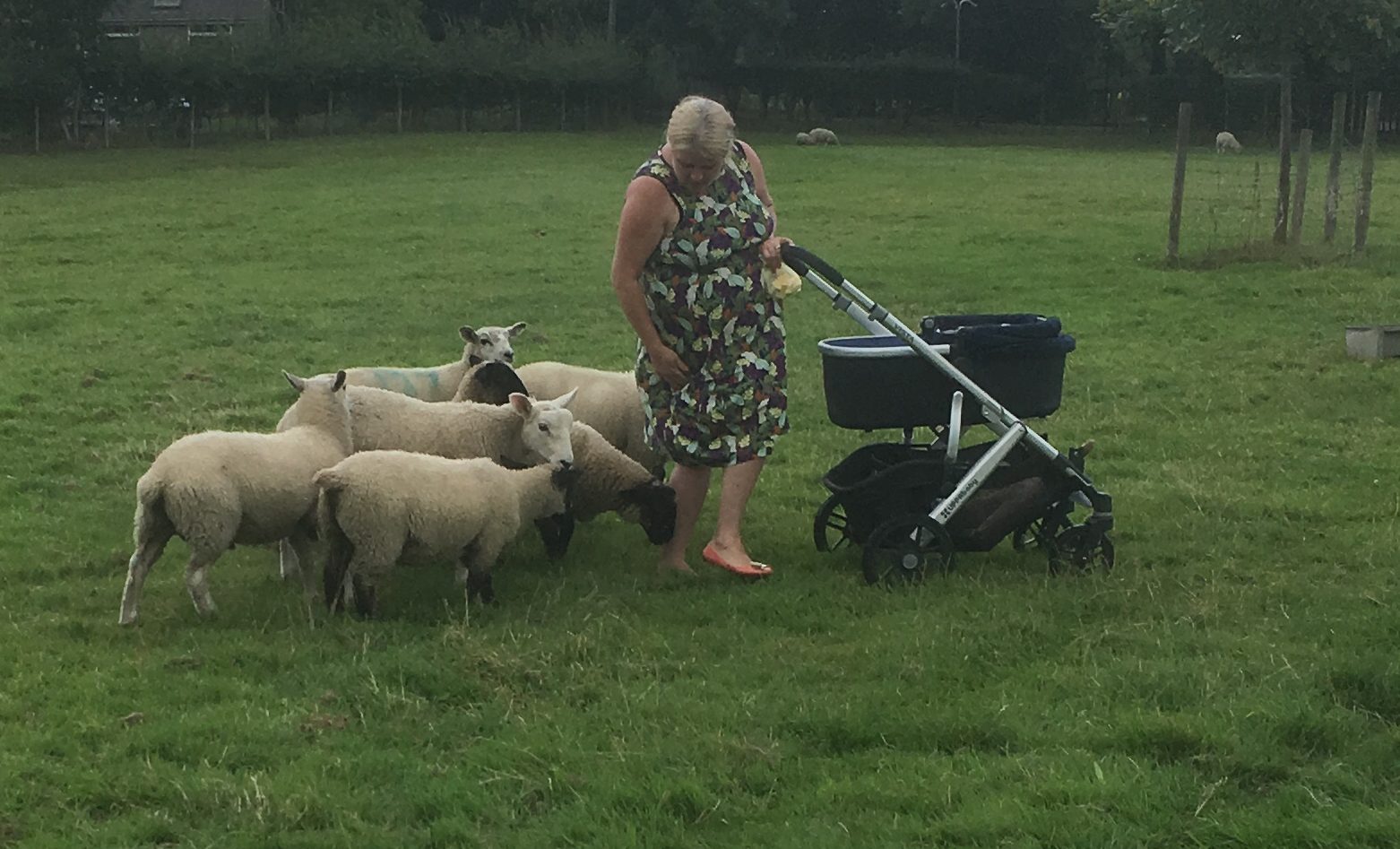 An American make, the Vista is the most amazing pram I have ever seen. I first saw it in a department store when I was pregnant with G and I asked the assitant, if she was pregnant, which pram she would choose (a good question in pram shops if you ask me).
She said an Uppababy Vista and so, my love affair began.
When I got pregnant with baby number three, something had to be done. I would have three children and, being a farmer's wife, if I have to go anywhere, unless my parents can have one or two children, I have to take them all on my own.
At 2, G is not worldly wise enough to be allowed to walk or use a buggy board.
I needed a pram which would go from single to double and then back to single when G is better at not running off.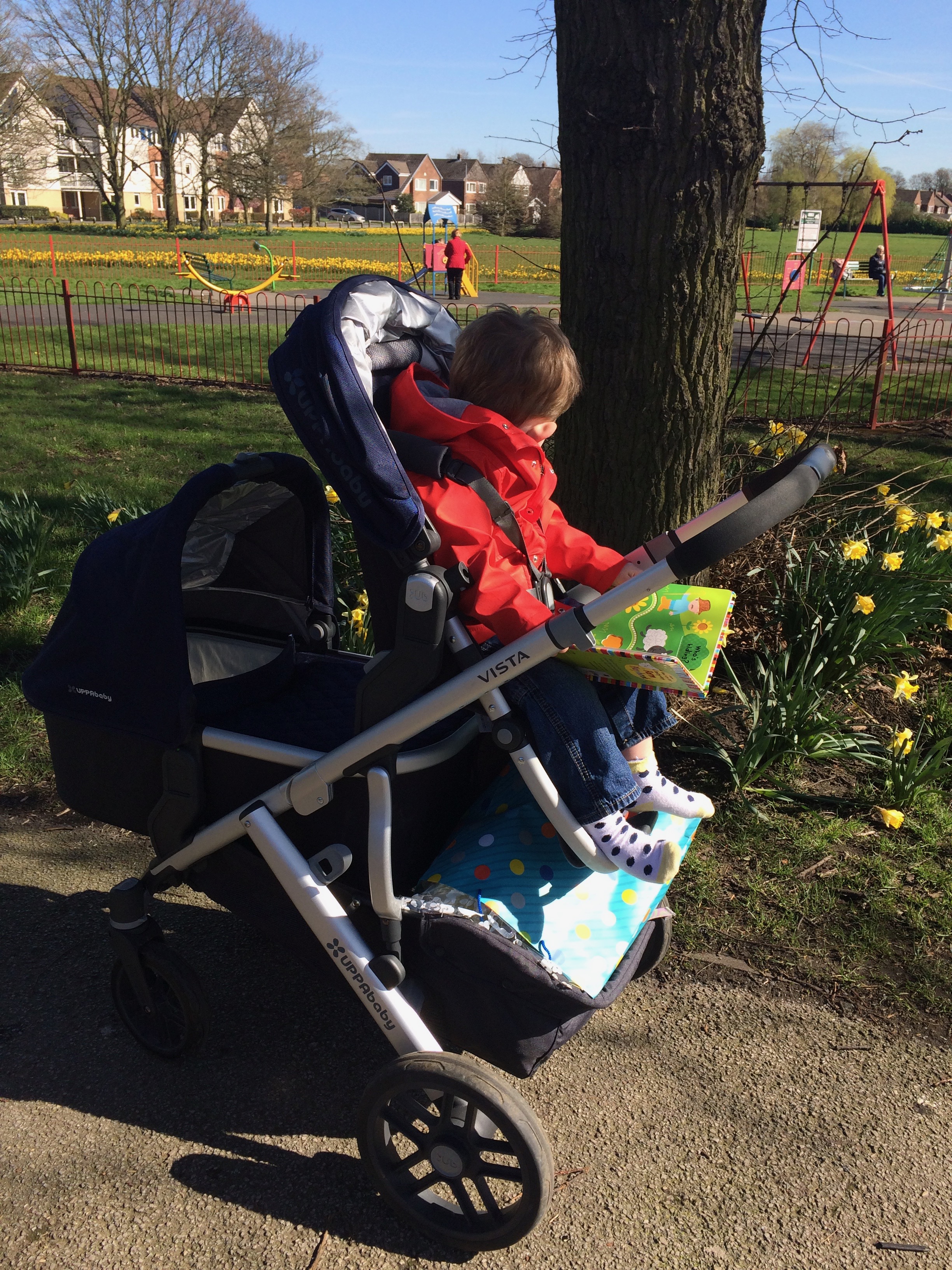 The Uppababy Vista has it all covered.
My lovely mum said she would buy me the pram. I laughed to her (after grovelling thanks and more thanks) that since I have been using the Uppababy Vista, I haven't looked at another pram again.
It is true.
Before, my head would be on a constant swivel looking at the prams being pushed past me.
Not only that but I have seen the stares of other people as they see it.
In my local shopping centre, I heard a lady say to her mum: 'look there's one of those prams I was telling you about.'
I've been stopped by people asking what pram it is.
It is a thing of beauty but it is also, so very practical.
We've tried it out in all the usual places but it is the farm which tests prams out for real and, even over fields or uneven ground it takes it and, not only that, it allows even a sleeping baby to carry on comfortably.
During sheep shearing, I got to carry the whole of the lunch for the workers in the bottom of the pram (such is the size of the basket).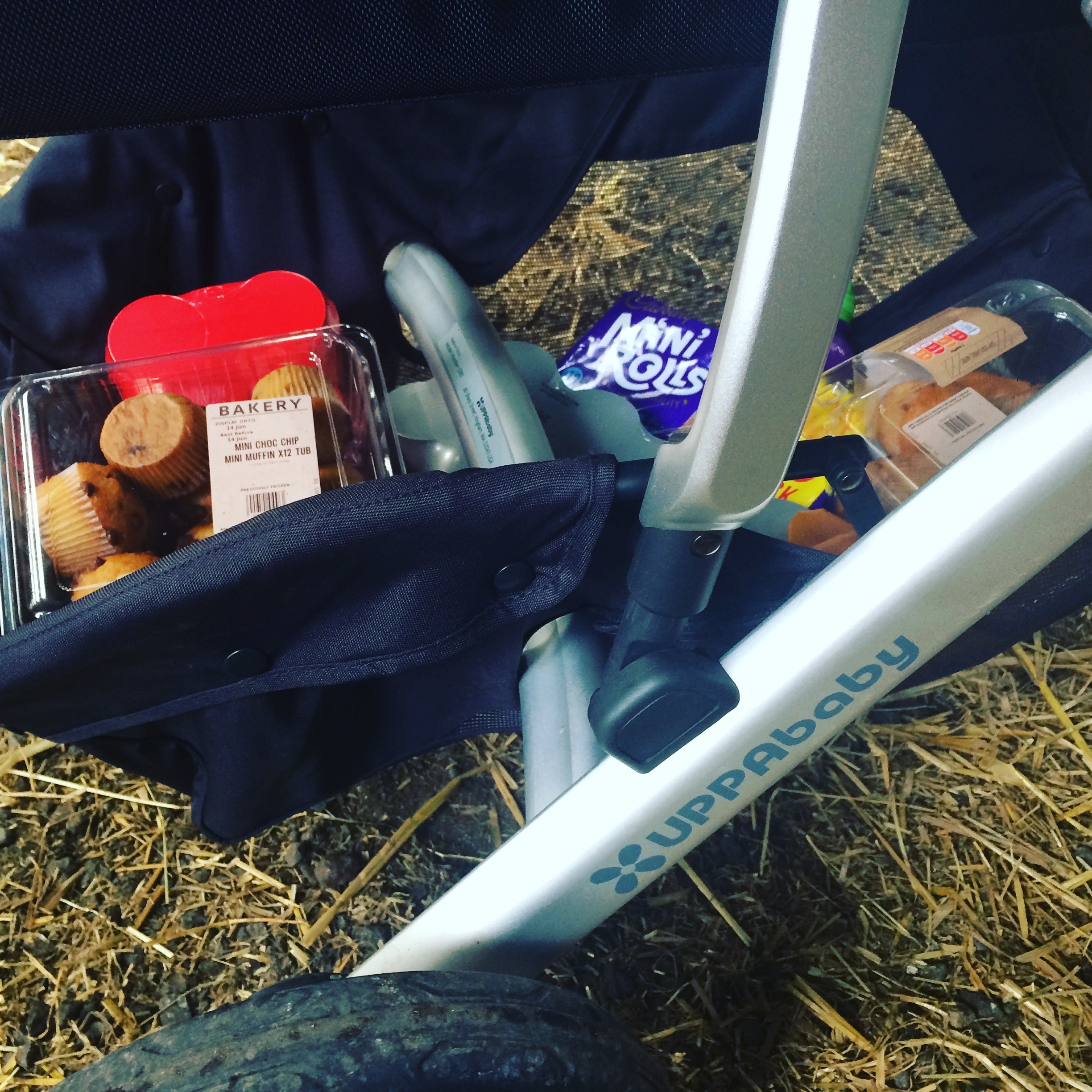 The pram came with a carry cot and a seat for when the baby has either grown out of the carry cot or is six months old.
Up until this point, I has used adaptors to put the original seat onto the chassis with the carry cot to give G a seat.
I had hoped that by the time the baby was six months old that G would walk better.
He does walk like a normal child now but, it still stands that he has no sense and, it is just unsafe in large groups or when I am distracted to not have him in a pram.
Uppababy make a rumble seat for the vista which not only solved my problem but, opened up a whole load of seating options to have a go at.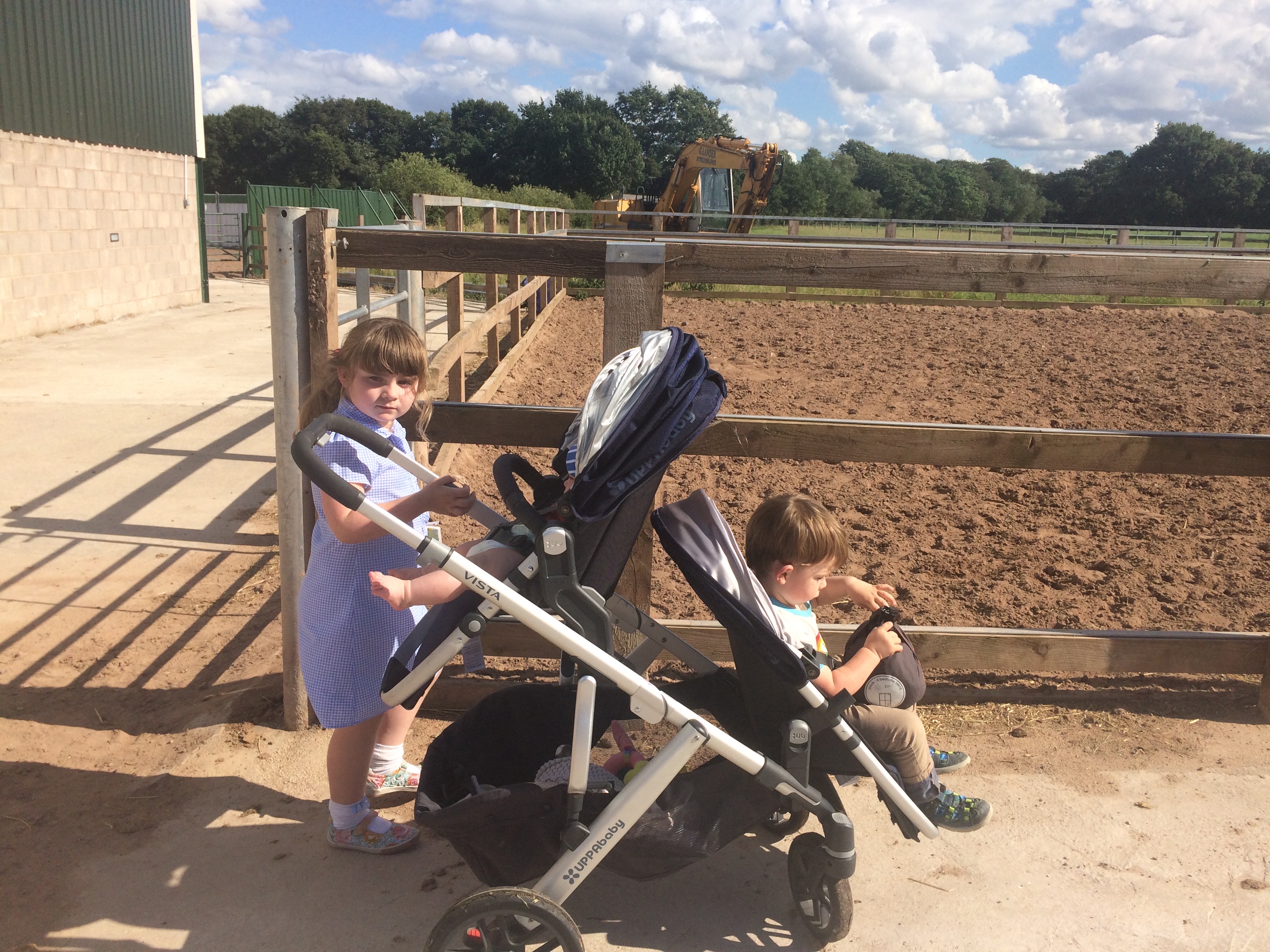 The rumble seat is slightly smaller than the regular seat and comes with its own adapters.
The adapters for all of the pram are colour coded with a blue or orange dot on the chassis. Even when you are rushing to get somewhere, these dots mean putting the pram together as a double is quick and stress free.
There are so many options for the seats but, if you ask me, there are so many options full stop with the Uppababy Vista.
They really do seem to have thought of everything. From the handy pockets in the basket, the zips on the back of the seats.
The built in sun visors are an absolute game changer for me. Those stupid umbrella parasols on other prams can be tossed aside which is the best place for them as they never stay up anyway.
Both the original seat AND the rumble seat have the built in visors as well as the carry cot.
I even use them while the boys sleep to keep the light out. Such a good idea.
The pushchair seats can have play bars or not.
If the rumble seat is on the bottom and it is G in there, once I unclip him, he can get in and out himself.
That's another plus point for me. The harnesses are really easy to clip. No fiddly holding both bits together. This ensures that you can transfer a sleeping child from the car to the pram with minimal fuss.
Collapsing the chassis is another thing I think is important and the Vista really is one of the easiest ones I've used.
The brakes are activated with a one touch foot action and are colour coded-red for on, green to go.
If you are pregnant with your first child and looking at the world of prams, I cannot recommend the Uppababy Vista enough.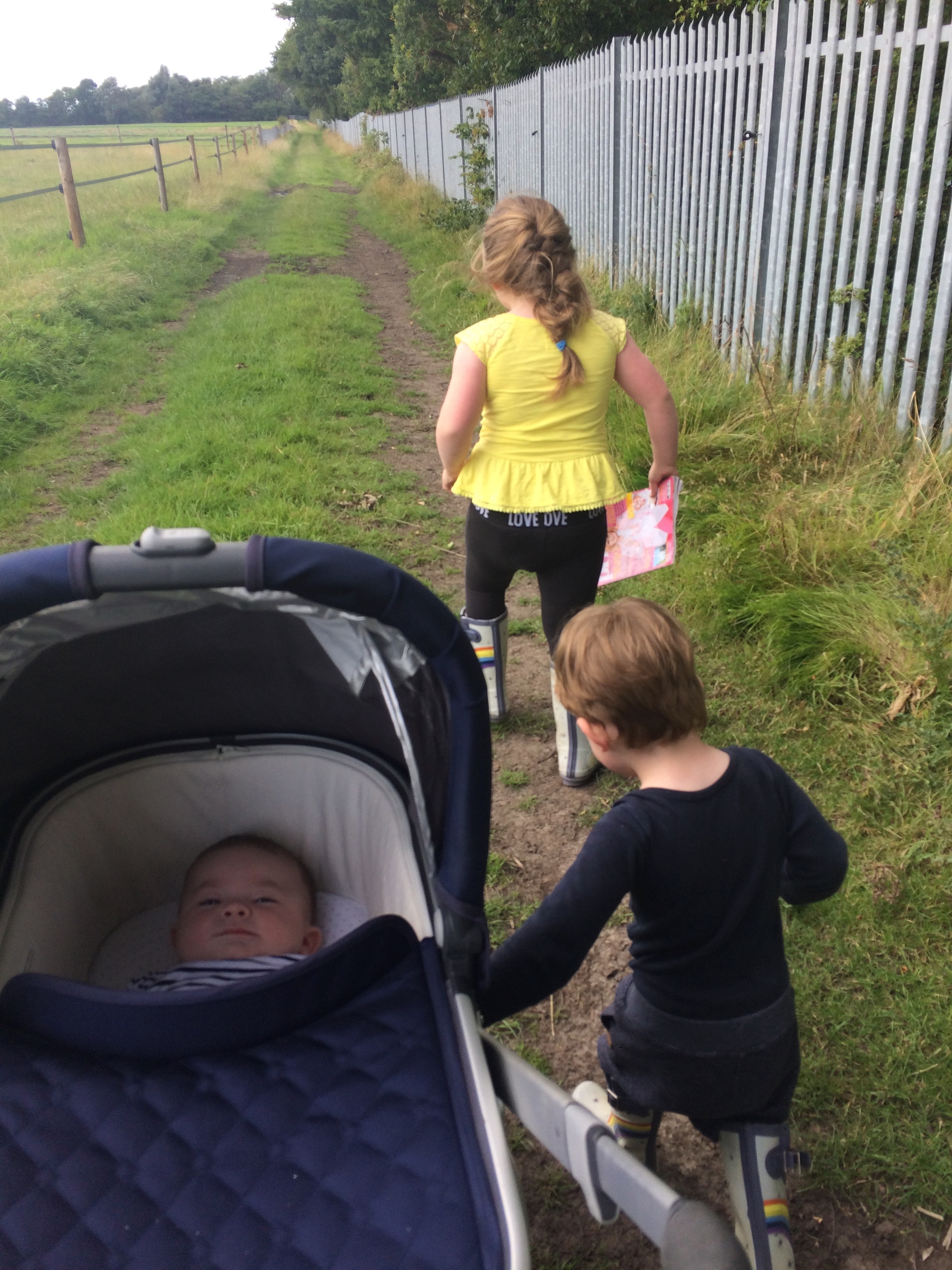 You would actually be saving money if you bought it because, if you have another baby, you'd still have the right pram.
The only thing I can fault it on is that the back wheels are a lot wider than the front but it's not really a complaint because you need it so the pram can adequately push a double decker seat configuration.
It just took me a couple of goes to get it through doors. I can do it one handed now.
The Vista is also the only single to double pram that I have come across where the second seat does not forfeit any of the basket space. How good is that? So you have all the seat options but you don't have to sacrifice basket space.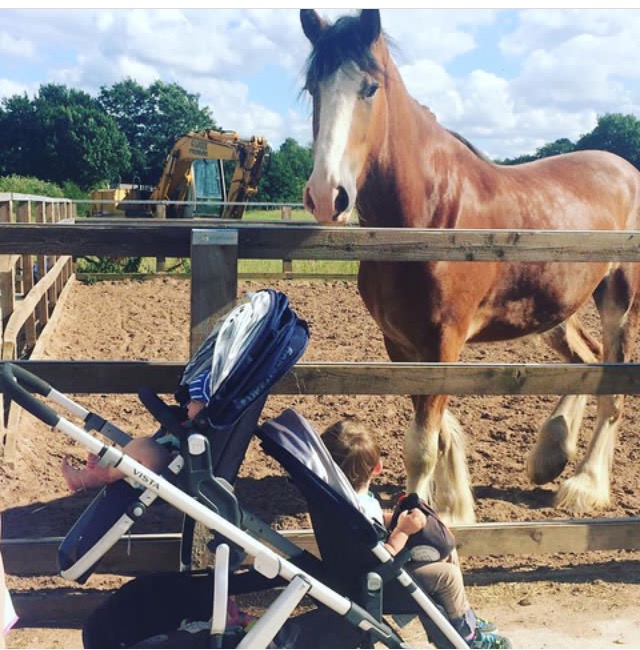 I am sure you can tell that I absolutely adore my Uppababy Vista. It is the best pram out there, especially for two and I cannot recommend it enough.
*This is an honest review. My mum bought me the Vista but Uppababy kindly provided me with a rumble seat for my review.