I feel like a weight has been lifted from my shoulders.
We have survived our first half term as a family of four.
While most other parents are lamenting the fact that their children are back at school and nursery tomorrow, I am relieved that we got through it relatively unscathed.
You see I am still under my driving ban after my c-section and the thought of a week with a four year old and a new baby, cooped up in the house, filled me with dread.
Thankfully my parents took Boo back to their house a couple of days. Hubster dropped us in the village one afternoon and we visited the park with Boo and I's friends and, on Friday, we visited the local retail park.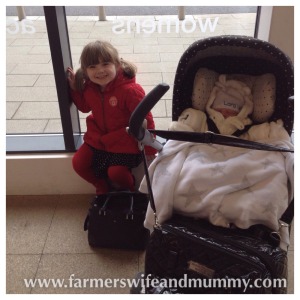 For the rest of the time, we bundled Beb into the pram and walked around the farm.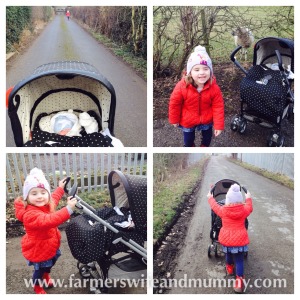 At three weeks old, I think half term would have been better a few weeks later but alas, it wasn't to be.
We had planned to go to the cinema but it is so difficult relying on other people to ferry us around. I think Hubster is counting down the days until I can drive again.
For now, I am just relieved we have come out of it in one piece.