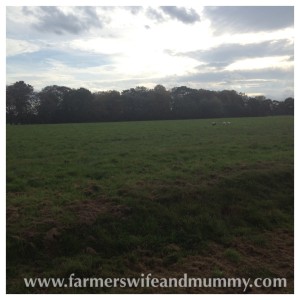 We have some beautiful old trees at the farm. So when Hubster told us there were some oak and horse chestnut trees in one of the back fields, we decided to go and investigate.
It has been an unseasonably dry September so we trotted off in regular shoes rather than wellies and took Rosie the dog too.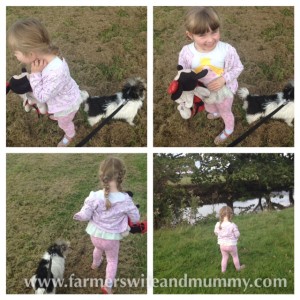 It was quite a long walk to the wood but sheep kept us amused as well as spotting a lovely holly bush with berries which I am led to believe means we will have a harsh winter.
Trying to explain to a three-year old that holly is the name of a plant as well as a TV character was hilarious.
So we eventually got to the wooded bit where Hubster had assured us there were acorns and conkers. I thought it would be a lovely thing to do and we could practice counting with our booty.
I did see evidence of the outer shell of the conkers on the ground but there were none of the good stuff left. Whether someone else had got there first or a cunning squirrel family had moved in, I don't know but we carried on in a circle coming back round to where we started.
We went past the lovely pond which I have mentioned before. Rosie was dying to get off the lead but it's not worth the risk of upsetting the sheep that she would inevitably chase.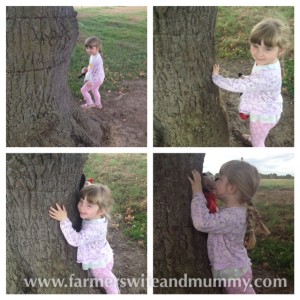 So we reached the final oak tree but, once again, it was only a few shells of acorns on the floor rather than the fruit themselves. Boo did enjoy touching the bark and giving the tree a lovely hug.
So, in our long walk, what did we manage to find?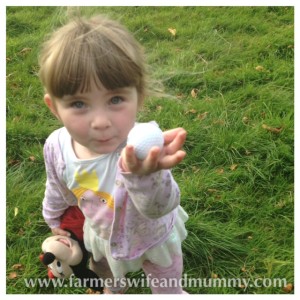 One, solitary golf ball which must have come over from the nearby golf club. Boo was nevertheless happy with her find but my idea of getting closer to nature didn't quite work out.