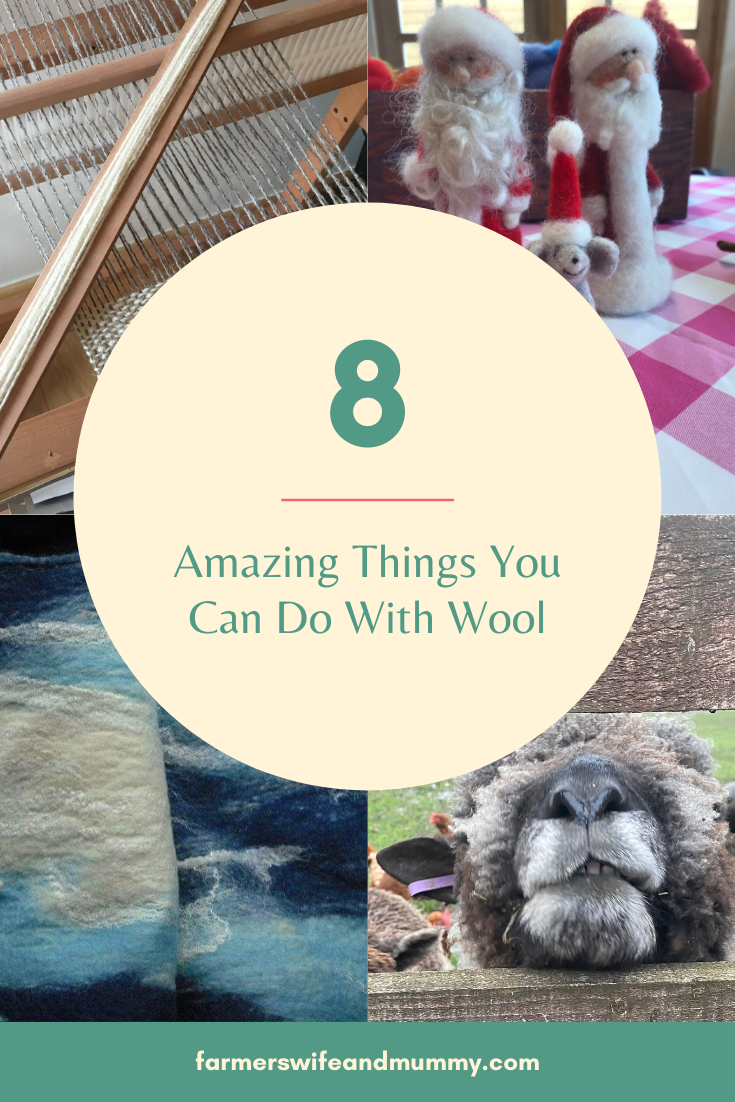 I am sure you know by now that I love wool. I love how versatile it is, the sheer amount of things you can do with it. It is cool in summer and warm in winter. It is the most natural of materials and is probably the only animal product (as well as dairy) which doesn't harm the animal when obtaining it.
I suppose being married to a sheep farmer helps with my love but I was into wool crafts for many years before I got married.
I have therefore spent a few weeks making a list of all the wonderful things you can do with wool and I have decided to share it with you.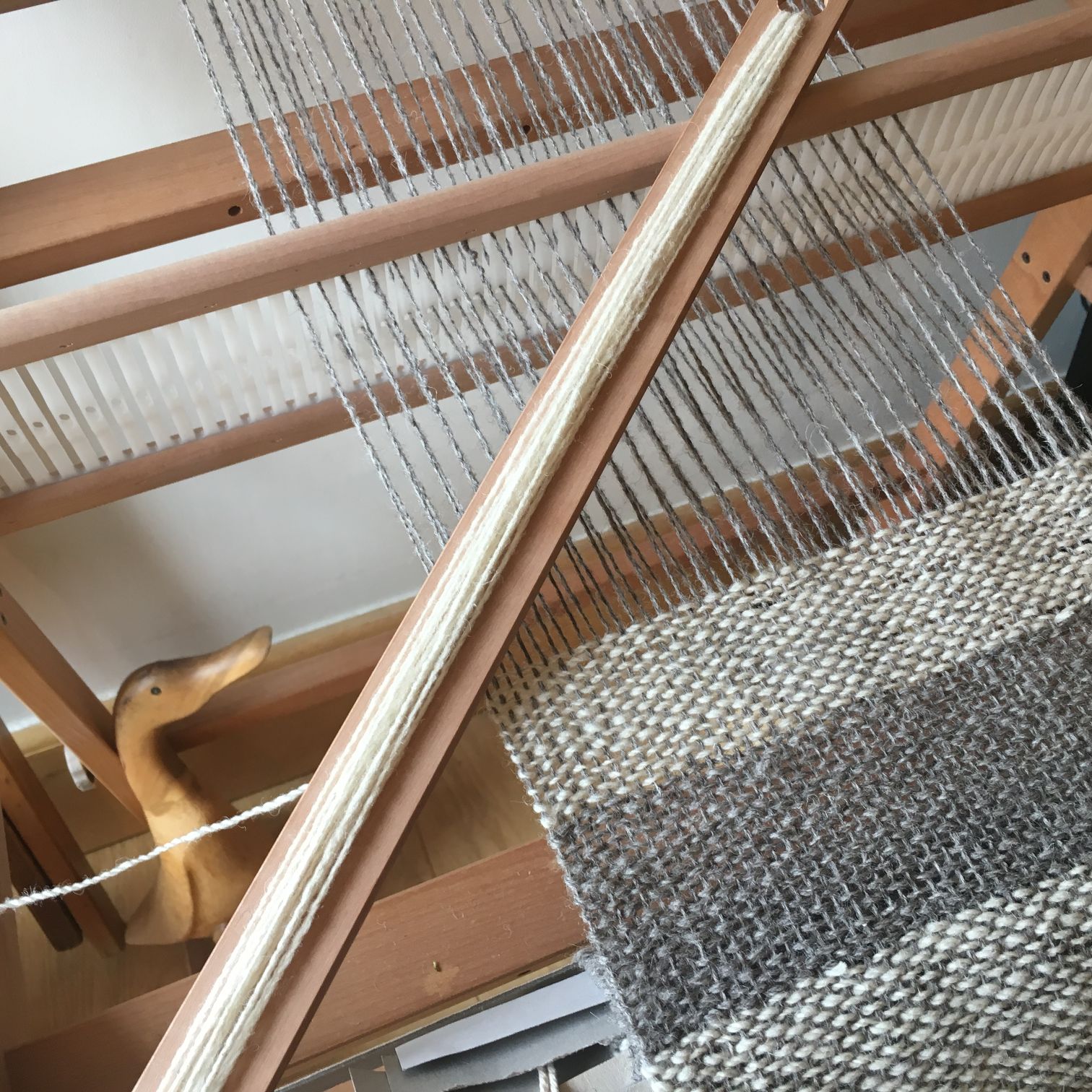 Weaving. This was the first thing I ever had a go of as a child. A lady gave my grandmother a small loom for me and I had hours of fun weaving the little toggle under and over the yarn and the satisfaction of pushing it up when I had one a few rows. If I ever get a minute, I think I would like to go back to this and have a go.
Knitting. My nana was an avid knitter and made me (and my dolls) countless garments so it is only right that she taught to knot. I still love to knit.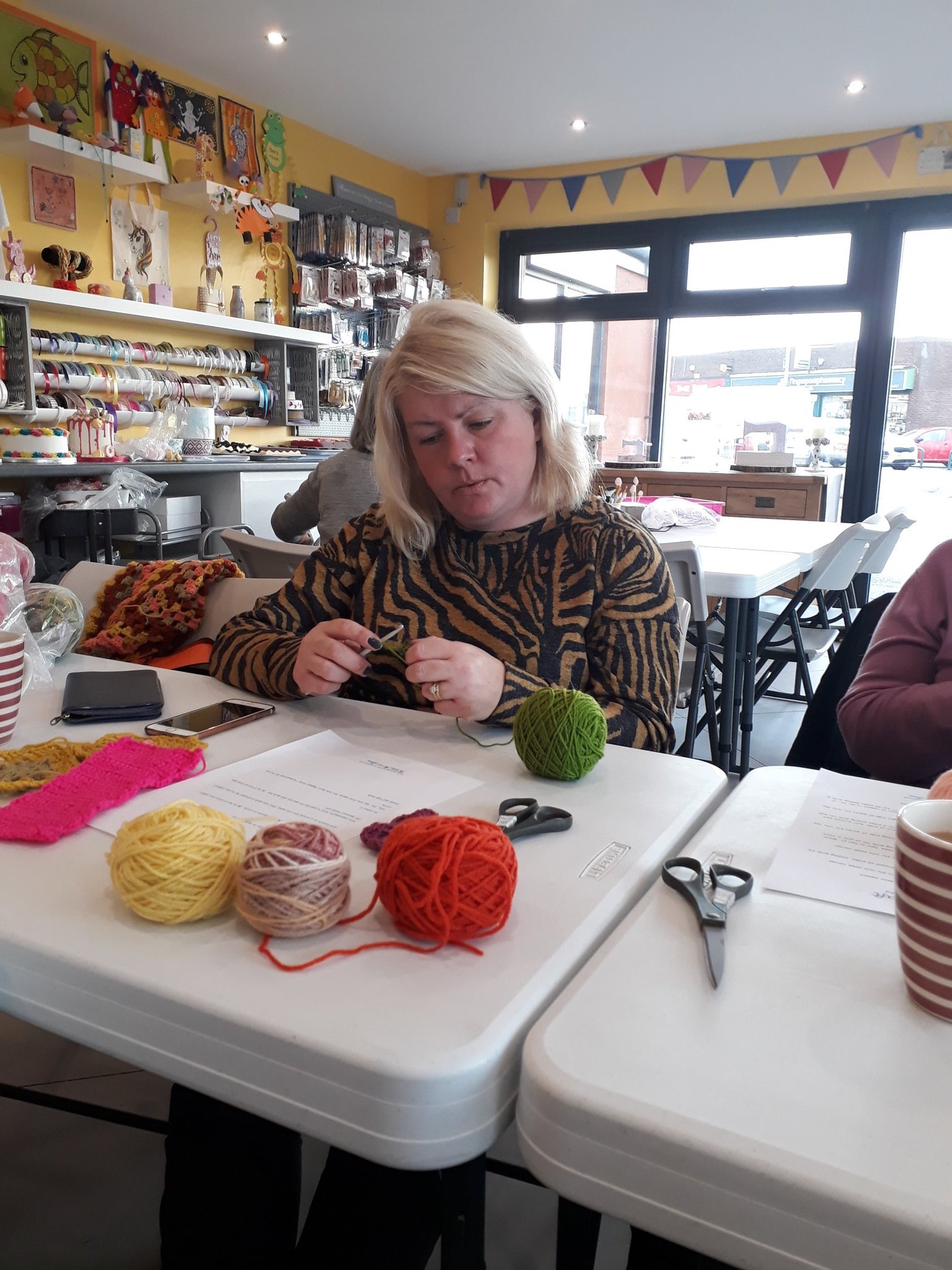 Crochet. It took me years to master crochet and, once I did, I fear my habit has taken over. If I am stressed or anxious. Crochet calms me down. I love it.
Needle felting. Last year I went on a needle felting course with Birdie and Blossom and Mrs B Felts. It was an amazing experience and, for me, I think it is the closest wool craft to the actual sheep. You can smell the wool as you work with it and it just took me back to sheep shearing day. I was incredibly impressed that, just with the aid of a sharp needle and some imagination, the wool can be worked into any shape imaginable. I made a sheep (obviously) but if you look for needle felt creations on Pinterest or Youtube, you will see anything and everything come to life with wool.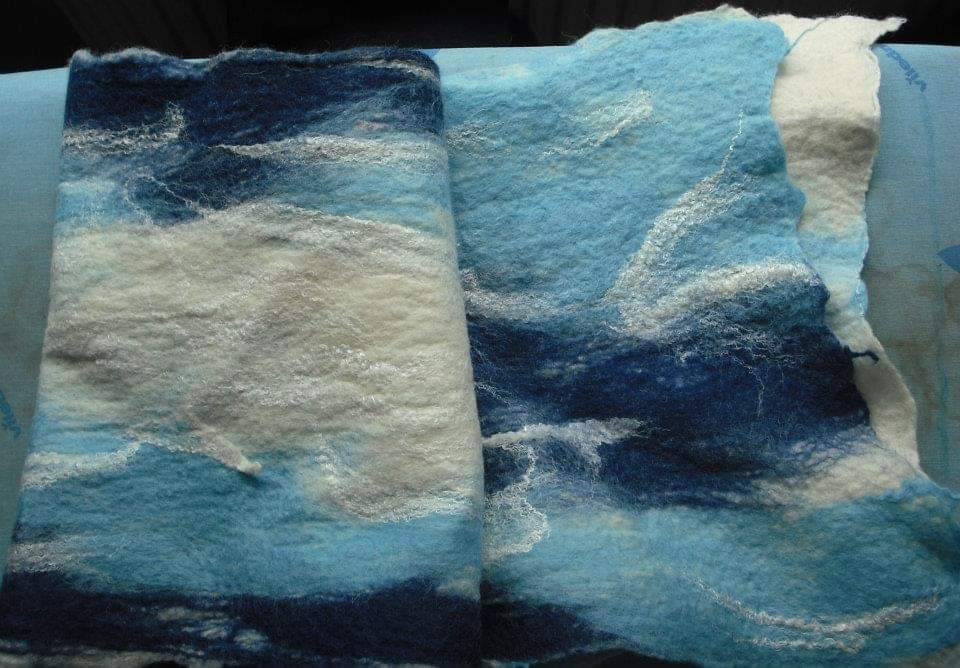 Wet Felting. Wet felting is similar to needle felting in the way it uses raw fibre but, rather than using a needle, the wool is wet (hence the name) to make a fabric rather than the shape.
Spinning. I had a go at spinning when I went alpaca walking and it is not as easy as it looks. I had considered getting a second hand spinning wheel but I am not at that level yet. There is a Guild of Spinners which I met at the Royal Cheshire Show and I would love to join them one day when they children are a bit older. If you have the time, do check out of your local area has a guild, it is well worth taking a look.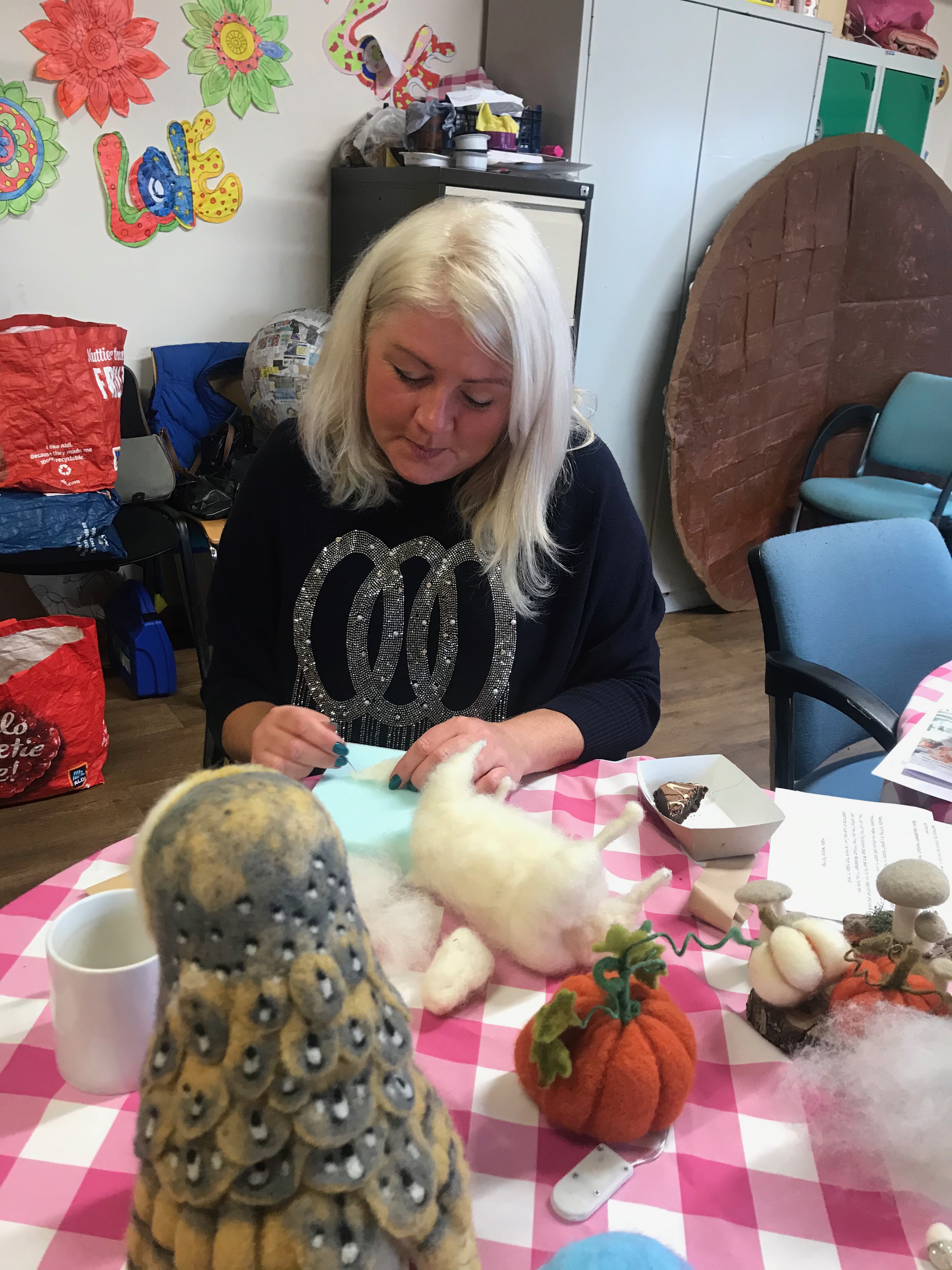 Pom poms. I love love love pompoms and some clever people have turned it into an art of its own making garlands, wreaths and even animals out of them. I would have pom poms hanging off everything if I could.
Macrame. Once the craft of the 1970's and 80's, macrame is back and with a much more stylish reputation. Knots and numbers are not really my thing but I admit the finished product looks amazing. If you eat to try a wool craft but don't fancy buying needles or hooks, maybe this is the one for you as you only need the yarn to start.
Tassels. From jewellery to homewares, who doesn't love a tassel? They are really easy to make and can be adorned with beading and glittery thread for the ultimate in individual style.
Embed from Getty Images
Tweed. I love tweed. It just screams country and it starts as strands of wool which are weaved together using different colours to achieve a pattern. It is one of the warmest fabrics known to man and you can often see the Queen and Prince Charles wearing it when they are out and about. I think it is amazing that something so beautiful and intricate starts life as a single strand of wool.
Weaving. Weaving is one of the most ancient forms of woodcraft and without it, tweed (see above) would never have been invented. From tiny little child looms to giant, industrial sized ones in factories, the art of weaving is so clever and even small, hand-held or home looms can make large pieces of cloth.
Tapestry. Tapestry is an artistic form of weaving using the different strands of wool to form a picture or an intricate pattern. Used in Medieval times to cover the walls of Tudor palaces and stately homes, in a way, it could be seen as an early form of wallpaper.
So there here is a lot of activities you can now go away and try if you haven't already. Of course as the wife of a sheep farmer, I have a (woolly) vest-ed interest in people loving wool but I do actually love it anyway.
If you liked this post, do check out some of my other posts on a similar theme:
Jumbo Knitting and Crochet with Woolly Mahoosive
Pom-pom Flowers Tutorial
Learning to Crochet with Sally from I Can Craft
Knitted Bunting Pattern
Why Sheep Get Sheared
Huge thanks to Mrs B Felts who taught the needle felting class and felted the Father Christmases and Mice in the collage photo. You can follow her on Facebook and Instagram.
The weaving photo was created by The Royal Edge who created amazing things in wool and wire from her farm in the Peak District.
The wet weaving photo was from Svetlana Brown.