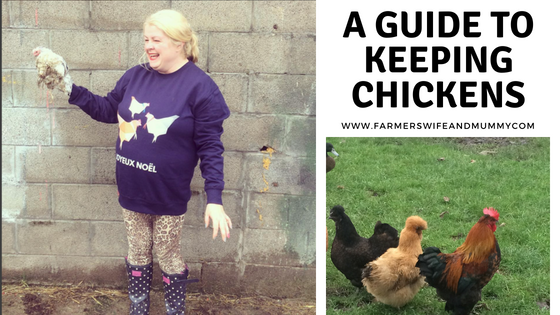 The first thing many people ask when they start to keep chickens is 'do you need a cockerel.'
The short answer is no.
Hens lay eggs with or without a cockerel so, if it s eggs you are after, the male is not necessarily needed.
The other thing people often wonder is, if you do have a cockerel, can the eggs still be eaten.
The short answer to this us yes.
An egg has to be incubated for three weeks for it to hatch and, even if it is fertile, as long as you collect the eggs every day and keep them at room temperature (or in the fridge if you prefer), no chicks will occur.
The purpose of a cockerel in a flock is complex. Yes they mate with the females but this is not their only role.
We currently have three cockerels. The Maran is the boss. He struts his stuff throughout the day, standing on gate posts calling to his women and letting the other cockerels know he is boss.
A cockerel will protect his flock to the death.
During a fox attack, you will usually find the cockerel dead near in the coop because he will have tried to fight off the fox. Quite heroic really.
We also have a young faverolle cockerel who monkey picks the boss so he is tolerated. He has just started treading (a chicken term for mating) the females but I have not hear him crow yet. He tends to mate them when the boss has his back turned so all is well.
Our other cockerel is a lavender Pekin and he and the boss do not get on at all. I have tried many times to integrate them but to no avail. Indeed, the last time I tried, the Pekin flew up onto the fence and hoped into my arms.
I decided that would be the last time I tried to integrate them and he is currently his own boss with the second lot of chicks I hatched this year. He is teaching them the way of the chicken and he is happy so that is good enough for me.
The main thing to remember about a cockerel is that they crow.
A lot.
Despite what most people think, it is not just first thing in a morning. It is at dawn which, in summer can be 4am. Then they crow all day.
For this reason, if you live in a residential area, I would seriously think twice about keeping one. It will no doubt result in complaints and will end up with you having to either re-home your bird which is very difficult or eat him for dinner.
If you look on selling sites, most cockerels are given away free because, unless you want to breed a particular chicken, no one wants them. In my opinion, unless you live a long distance from anyone else, have a simply enormous garden, have a small holding or a farm, then don't get a cockerel.
I love cockerels. I love the cock-a-doodle-do in a morning. I love that they get all of the hens in the coop a night and I love watching them strut their stuff.
Saying that though, over the years, we have had some really nasty ones and for that reason, I am a little more wary than I used to be.
Many cockerels have a spear on the back of their foot and, when they attack, it s this and their beaks which they use to really hurt you.
I do worry sometimes with the children as they are at the right level to hurt their eyes or faces but up to now, the boys have been wishing close proximity to the boss and have been ok.
Getting a cockerel is a bigger decision than getting hens if you ask me.
Don't say I haven't warned you.
Next week, I will be looking at the bad points of keeping hens.
If you like this post, then do check out the other posts in the series.
Part 1-Plans and Housing
Part 2-What You Will Need
Part 3-Choosing Your hens