For most people, pets are part of the family so, at this time of year  the days grow shorter and Christmas approaches, we often turn our thoughts to our furry friends.
They deserve a bit of luxury like everyone else but I like it to fit with the homely decor in my house.
For me, there is no one I trust more with my pets and their welfare than Cath Kidston. Not only are the products sturdy and practical but they look amazing too.
With it just being Baby Bell in the house now, the Greenwich Flowers Pet Bed with luxury inner has been like a hug in a bed.
The inner cushion can have either the pattern on show or for the more pampered and dare I say less weathered divas, a gorgeous furry, thickly filled inner which saw her not want to leave her bed.
As probably the smallest breed of dog, the bed was very roomy but in the medium size, I know our old Jack Russel, Rosie (RIP) would have equally enjoyed the bed and had plenty of room. 
Available in two sizes, the fabrics contain recycled polyester, as part of Pet Brands with Cath Kidston's new range of sustainable products that don't cost the earth. Not only that but the inner cover can be machine washed as well all know the delights of what can be found in a dog bed-think hand bag but a bit more funky.
There was a part of me that wondered how many chihuahuas I could realistically get into the new bed but one look from the farmer and I stored the thought at the back of my head.
We have also received a beautiful mat and pet bowl-both in the Greenwich Flowers print. Pet mats are a great idea in the feeding area as the prevent spills from getting on your floor and they look nice.
The bowl is a lovely size and perfect for little mouths which mostly get forgotten in the pet world. 
We did receive a beautiful collar which was a medium so would probably have gone round Bell six times. Have no fear though, we have enough animals here to share so Sky our Lurcher-cross had a mini makeover and was very pleased with her new outfit.
Not only does it look pretty but there is a Cath Kidston metal tag next to the fastening so the times I have been to the bin in the dead of night and nearly had a heart attack when Sky's wet nose brushed my leg are over as I can hear her coming now. 
I liked the push and close fastening making it super easy to get on and off and far less hassle than a buckle.
Sky is top dog at the farm and our head of security. I just think the Cath Kidston collar has really given her the edge above the underground rodent squad and bad guys who take one look at the Greenwich Flowers and instantly turn on their heel.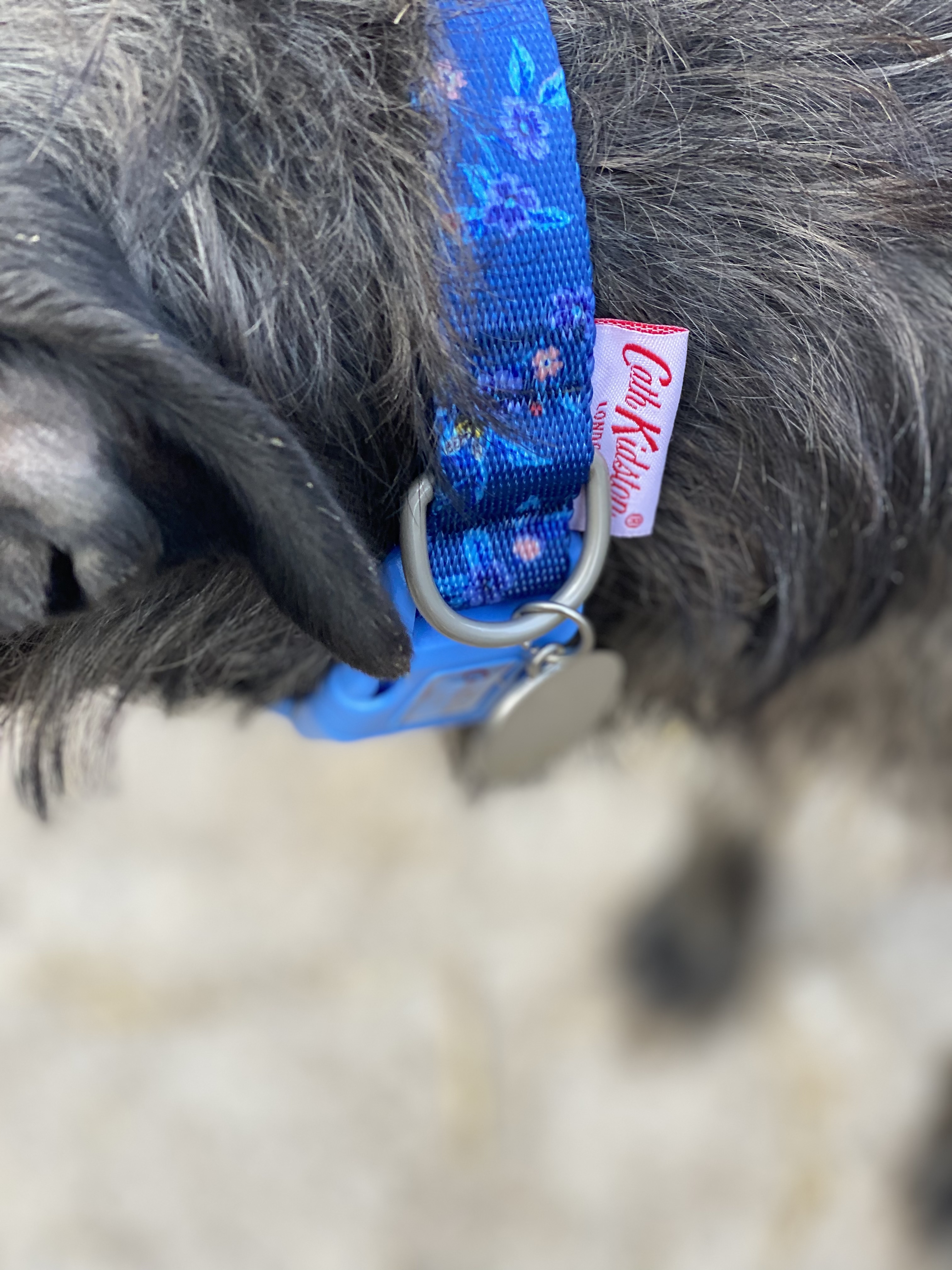 I am pleased as part of this campaign to offer readers of Farmer's Wife and Mummy a 10% discount code for Black Friday which is CKBF2021 as well as the same on Cyber Monday which is CKCM2021.
Don't forget it's Christmas for pets too.
All of the products are available here.
*We were sent the products as part of this review but all opinions are my own and my regular readers will testify that I adore Cath Kidston.