Seeing as I haven't got long left with this pregnancy, I am going weekly with my updates.
I have had another antenatal appointment and the baby has moved from being transverse to being head down which, on the face of it is good.
I saw my consultant and, following on from last week's scan, where too much fluid was found around the baby, they have confirmed that it is too dangerous to opt for a VBAC and I will be having my second caesarean section.
Despite being filled with fear about it last time, now that I know what happens, I don't feel too bad about it and I will just be pleased if the baby is well.
There is a risk of premature labour with all the fluid and they told me if my waters break I must ring labour ward and insist I go in straight away. With so much fluid, there is a high risk of cord prolapse which can be fatal for the baby so I am really hoping that doesn't happen.
I will get my blood pressure measured each week from now on and I have my final growth scan booked for three weeks time.
They also informed me that despite having two previous babies at 38 weeks, protocol has changed and any baby born before 39 weeks now needs steroid injections which I have to have and, by all accounts they are not the most pleasant experience in the world.
My diabetes nurse also said they play havoc with blood sugars so I need to contact her before I have the injections to aggressively go up with the medication so as not to adversely affect baby bubs.
The other big news is I ordered a pram.
When I had G, I was adamant I wouldn't get a new pram and just reuse Boo's. I did do that but, when he was around seven months old, I bought a Mamas and Papas Urbo2 in the sale which I loved.
I sold that in Autumn because, although G is nearly two, he is a runner so I would never be able to go to a shopping centre with three children on my own without some kind of pram or buggy to put the younger two in.
I have opted for a single to double pram-it converts with brackets to a double and, when G can be trusted not to run off, I can convert it back to a single.
I will probably do a new post on the pram one day but, it is lovely. I figured if this is my last baby, I want a lovely pram. That was my reasoning anyway and I'm sticking to it. Hindsight is a wonderful thing and, had I known we would definitely had a third baby, I would have bought the pram when I had G. Never mind. You can't always plan these things.
The other big topic of conversation in our house is baby names. We just can't decide. We are considering sticking with the royal theme but by doing so, we are narrowing our options.
We didn't find the sex out when we had Boo and whilst it would always be George for a boy (because it means farmer), we didn't have a girls name until she was here.
I think we are just going to have to concede to wait until the baby arrives and we see what he or she looks like.
I am sure we will know when the time comes.
Just for a laugh, here's one of the out-take photos where I'm trying to be brave feeding the absolutely enormous horse.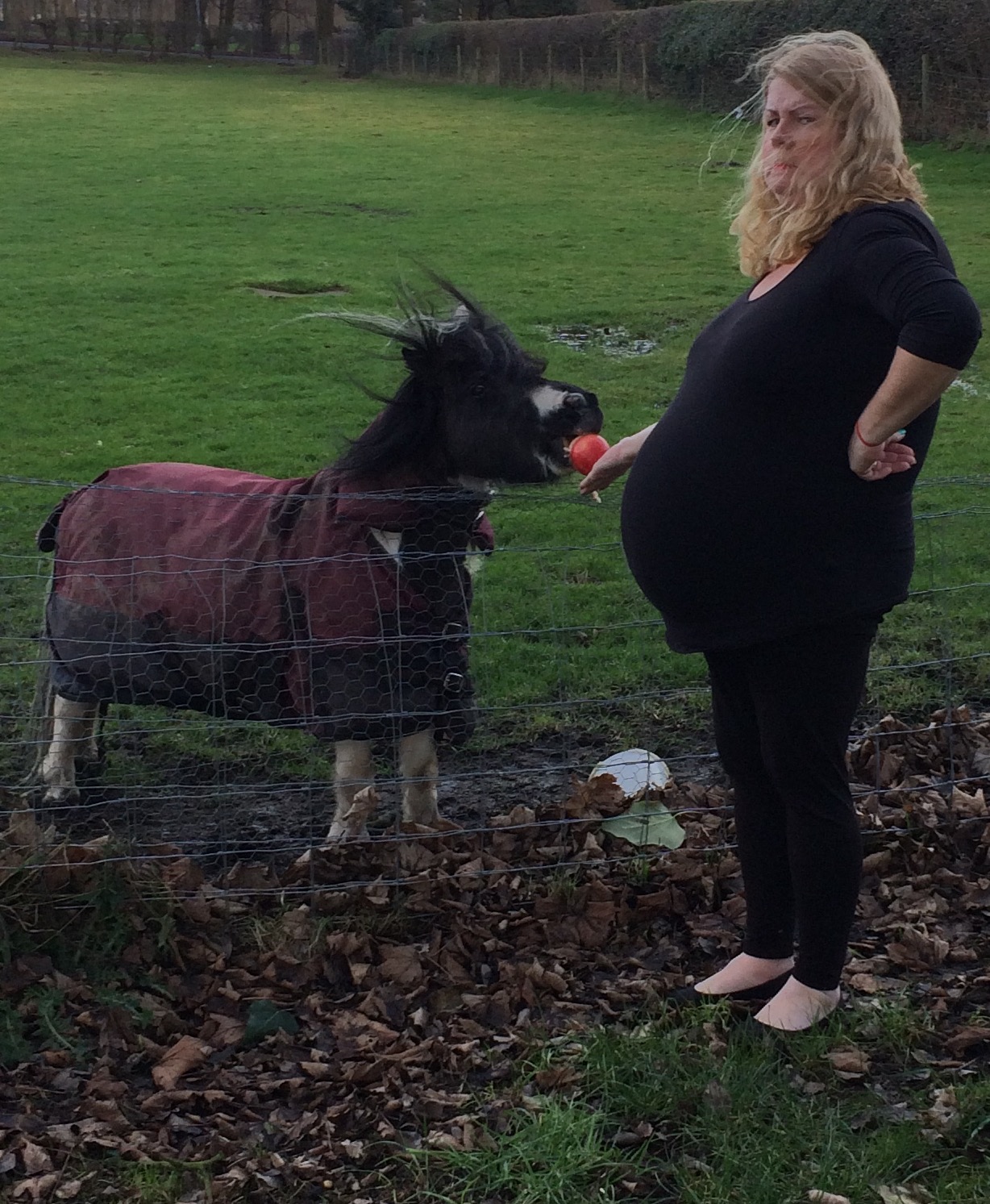 I can safely say Boo's apprehension about horses must be my fault.