On September 9th, 2015, Queen Elizabeth II will become the longest reigning British monarch, ever.
Kenwood is marking the momentous occasion with a hunt to find the UK's favourite Elizabeth Sponge and they want us, the Great British public to be involved.
They chose five celebrity bakers- Rosemary Shrager, Brendan Lynch, Dean Edwards, Matt Tebbutt and Miranda Gore Browne, have all suggested their unique Elizabeth Sponge recipes but now it's our chance to bake your own slice of cake history.
To be in with a chance of having your cake crowned 'The People's Elizabeth Sponge', we are asking people to create what you think is the perfect recipe for an Elizabeth sponge. The lucky baker will win the most versatile kitchen machine on the market, the Kenwood Chef Sense, and have their recipe professionally photographed to become an official Kenwood cake recipe.
Whether you're the next Mary Berry or just fancy a go at baking, they are looking for a creative and inspired recipe to crown 'The People's Elizabeth Sponge'. All you need to do is send in a photo of your creation along with the recipe and your full contact details (name, address and contact number) to co**********@ke*****.uk to be in with a chance of winning.
Now this really got me thinking. As regular readers will know, I have my own little royal babies so I had to come up with something for HM the Queen as well as my own little Princess Elizabeth.
Like her royal namesake, my Elizabeth loves strawberries so they had to be included in the recipe.
According to a 2012 article in the Telegraph, HM the Queen likes honey and cream cake so I decided to come up with my own recipe with little touches to appeal to Lizzie.
Both HM and my princess love strawberries so they had to be included too. This is what I came up with: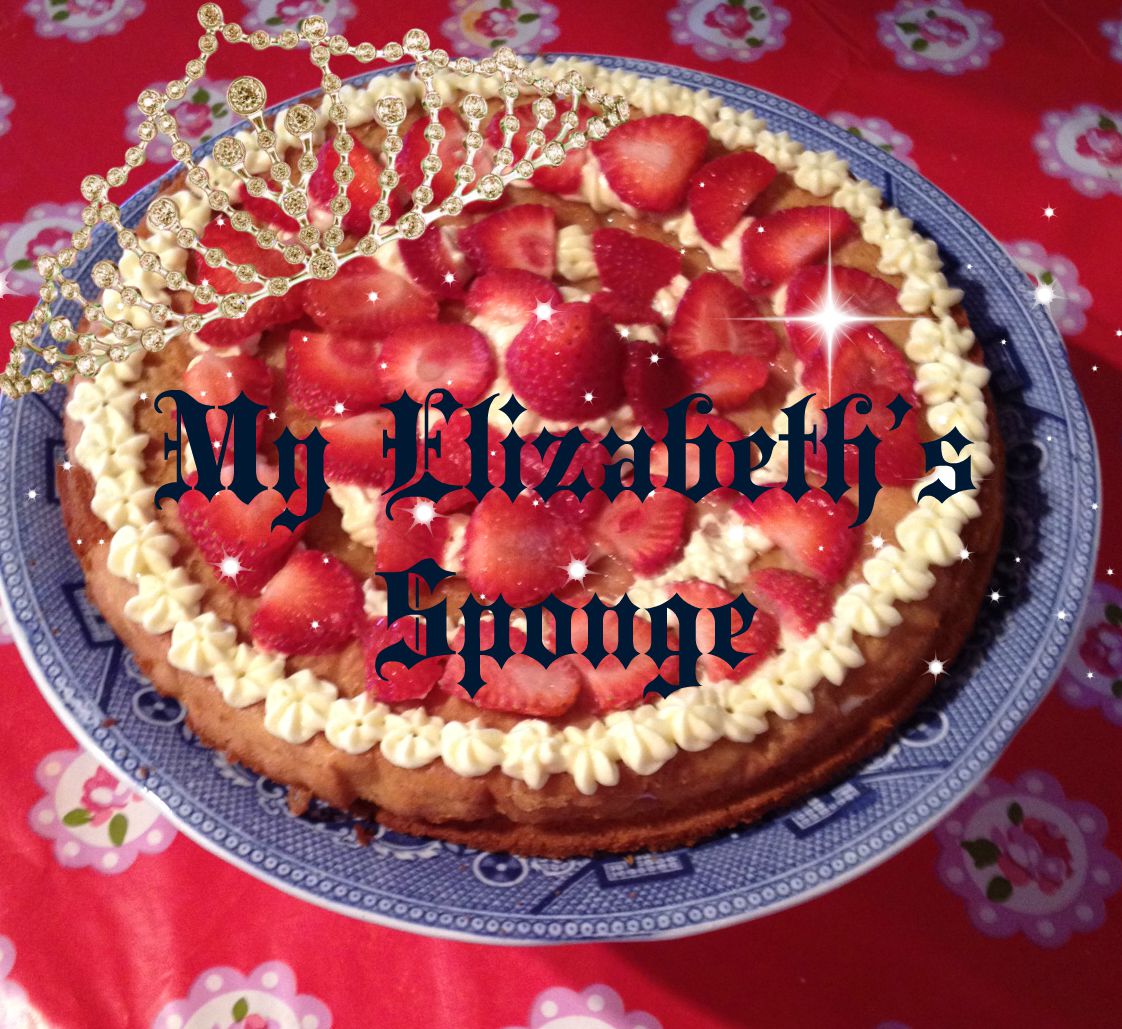 You will need:
6oz self raising flour
2oz British oatmeal (I used Mornflake-made in Cheshire)
4oz British honey (I used heather honey from Scotland-think Balmoral)
8oz butter
4 eggs
A miniature bottle of fine Scotch whisky
4oz butter
10 oz icing sugar
Method.
Melt the butter and honey in a pan.
Meanwhile beat the eggs, fold in the flour and, when the hot mixture is melted (not boiling), gradually fold into the dry mixture.
Divide into two 8-inch sandwich tins and bake for around 25 minutes.
Make the icing sugar-using a Kenwood kMix hand mixer of course . Add a tablespoon of whisky and continue beating until creamy-you may need to add more whiskey just see how it goes.
Allow the cake to cool and then spread honey and the whiskey cream over the other half. Sandwich together.
Pipe more whiskey cream onto the top of the cake and then decorate with strawberries.
I must admit, honey cake is an acquired taste. To us, it did taste a lot different from other forms of sponge.
For my little princess however, cake is cake and from her it got the thumbs up.
You need to be quick. To be in with a chance of winning with Kenwood, all recipes have to be entered by this Sunday (September 6th).
My Elizabeth Sponge may not look as polished as the professionals efforts but surely even The Queen needs a little taste of home baking sometimes.