What a year it's been at the farm.
Boo turned three in January and then started nursery in April. It was a big step for me letting go of my baby but she absolutely loves it.
So much so that she now stays for her lunch every day during term time.
Lambing was lovely as always but some of the horse riding ladies took over bottle feeding forcing Boo and I to take a back step which was a but disappointing.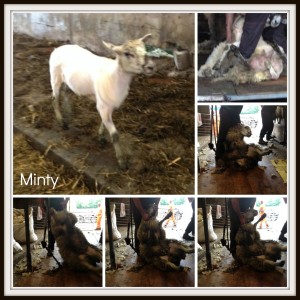 Sheep shearing took place at the end of May and it really is one of my favourite days of the farming year. My beloved Minty was sheared for the first time and looked very handsome when he was all shorn.
Sheep shearing was also the first day I felt a bit funny. I had a dry mouth and aching boobs and I could only hope what it might mean.
Despite a negative test later that day (I couldn't wait), the positive test happened two days later on the Saturday morning.
I was over the moon but we were going to Wales to pick up a new puppy so, naughty me, I took a photo of the test and only showed Hubster when we stopped for lunch on the way back.
He was obviously delighted but, after two miscarriages, we were both apprehensive and left it until well after the 12 week scan to break the news to the world.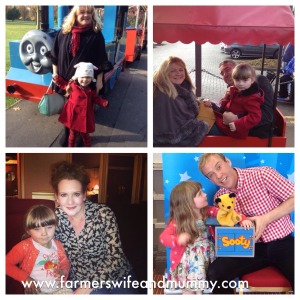 Summer was quiet because I was so tired but Boo and I have experienced some amazing days out this year. From a day a trip to Annie's Tea Room in Manchester to a day out in Delamere forest. We also saw Sooty in Warrington as well as a trip on the High Legh Railway as well as my favourite local day out at Walton Hall Gardens in Warrington.
We have had a lot of bunny babies this year too. From thinking our rabbits were all male, I was pleasantly surprised with our first litter. What I wasn't prepared for was the many, many other litters which followed. Oops.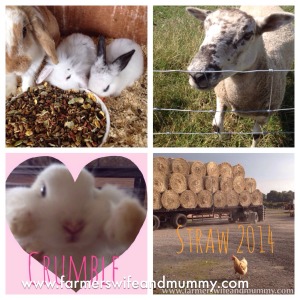 Unfortunately, Coco the mummy rabbit didn't make it. I got her as a rescue so wasn't sure of her age and more recently, Carrot, one of my makes died.
So now we have Coconut, the beautiful pure white boy with Clover, Carmen and Crumble, all ready to (hopefully) make beautiful bunny babies in 2015.
So our 2014 has been filled with hope and promise. I just hope it continues into 2015. I will not rest until this #farmbaby2015 is safely in my arms. I know too well that hints can go wrong.
So this New Year's Eve, I am cautiously hopeful that 2015 may just be our year when we get our much longed for second child.
I hope you continue to follow our journey and thank you for your support during the last year.
Happy New Year.